The sun set over San Marco, and a cool, tropical breeze swept through the city. Locals retreated to their homes, bracing for a summer storm. Yet, despite the gray clouds sweeping over Jacksonville, a small crowd of indie music-lovers gathered at Jack Rabbits that night to witness the distorted surf-punk-revival that is Yaupon Holly. 
Yaupon Holly, named after an indigenous, naturally caffeinated plant, is a 5-piece rock band hailing from Jacksonville, Florida, consisting of UNF students, Jason Kerr, Padraig Mee, Michael Glime, Bryson Hunt and Marcelo Celi. The band has undergone lineup changes, with their drummer, Glime, and singer, Kerr, being recent additions to the band. Glime was a childhood friend of Hunt, whom he reconnected with after the loss of the band's original drummer.
After the band's previous lead singer respectfully resigned, Kerr auditioned for the role of singer, and won over the hearts of the members with a cover of The Doors' "Break on Through to the Other Side."
The lead singer, Kerr, is in his final semester as a behavioral neuroscience, a field of study which he says influences every yell and scream he makes onstage. The bassist, Mee, works as a llama rancher in Capitol Reef, Utah, and studies logistics. Mee's passion for llamas has even influenced the band's album art, with his favorite llama, Remington, being featured on the album art for the single, Feel This Way. Knowing the versatility of the major, Glime chose to study communications and minor in film. During breaks in band practice and college work, Glime likes to use his minor to create documentaries. 
Hunt, truly a jackpot musician to have in a college band, studies music technology and production. Through his degree, Glime learns the ins and outs of recording music and how sound works, a skill that has proven to be valuable in Yaupon Holly. Lastly, Celi studies marketing with a minor in analytics, which he has used via promoting "Soap-on Holly," Yaupon Holly's soap brand. 
Yaupon Holly's music is best described as an energetic blend of indie rock and surf punk, with notes of 60's garage-psychedelic. Yaupon Holly is gaining traction within Jacksonville's music scene following the release of their single, Feel This Way, a psychobilly-inspired track that tells a tale of heartbreak and denial. 
This interview has been edited for clarity and concision.
Where does the name 'Yaupon Holly' come from? 
Kerr: Yaupon Holly is a native plant. It's one of the only caffeinated plants in North America. It was unique, it was catchy, it kind of stuck with us. In freshman year, I took a lot of yaupon holly leaves from the woods around UNF and made my own coffee substitute with it. Something energizing, a little bit of a pick-me-up. It's a pretty good analogy for the band. The branches of the leaves would actually be used by the Seminoles around here for 'black drink' as a pre-combat ritual for energy. They'd brew a drink that they felt made them warlike and energetic for combat. I've always been fascinated with how that applies to the band and the energy that we bring.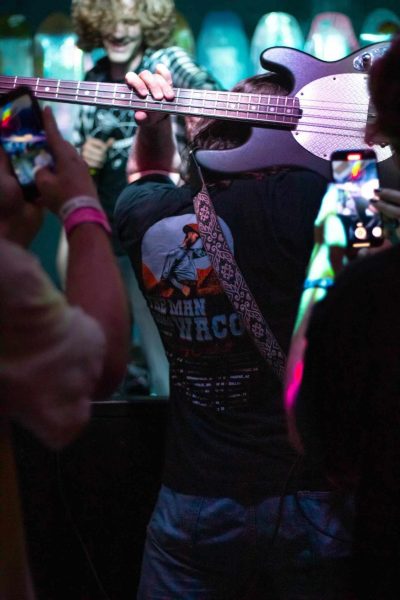 Who are Yaupon Holly's influences? 
Mee: I listen to Vulfpick a lot, they're kind of a funk band. I also have a lot of country influences. I used to play upright bass, so I use those lines in my licks, keeps it kinda funky. 
Celi: I grew up listening to a lot of classic rock. My dad grew up in England when the Beatles were releasing music. He moved to Boston in the 70's, so he got to see Genesis for like a dollar. My mom loves Pink Floyd and Led Zeppelin and Hendrix. In high-school I started listening to indie stuff and more recently, I've been getting into garage rock, like King Gizzard and The Oh Sees.
Glime: I pretty much listen to everything. Everything electronic, hip hop, rock, garage, bossa nova, classical. I'm always learning new things to play on drums. I'm really into jazz, so that's where I get my chops and playing style. "Punky jazz" is probably how I'd describe my drumming. People told me I sound like Keith Moon.
Kerr: I grew up on a steady diet of The Doors and Metallica. What I like to implement in my songwriting is more-so a lot of post-punk shit because that's the current genre that I'm obsessed with, particularly Shame and Preoccupations.
Hunt: My influences come from grunge and punk. I like Sonic Youth, Nirvana, Black Flag. I like heavy-sounding guitar playing. I'd describe the sound that I have as a wall of sound. A lot of volume, a lot of amplitude. I listen to a lot of things like that to get inspiration from it.
What was the inspiration for the single, 'Feel This Way'? 
Celi: Before Jason, we had another singer named Joe Thompson. He pretty much wrote it and we all added our parts in. He based if off some Soviet Russian punk (song). It started off as a kind of psychobilly surf rock song, and then we kinda just microwaved it. We were aiming for kind of a surfy sound, but we decided we liked our distortion pedals.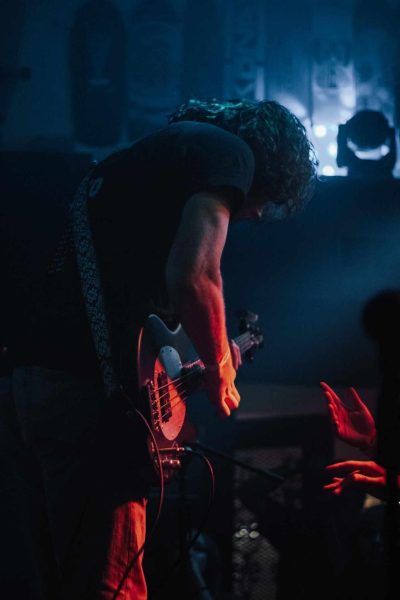 Jason, how did it feel performing in front of an audience for the first time?
Kerr: A lot of mixed feelings, there. First off, terrifying, but very elating. One of the most intoxicating feelings I've felt. I love when I see people dance to what we play, I love seeing people bob their heads…that's one of the most powerful things I've ever felt. It's indescribable. For the first time, it was like something came over me. I threw up off the side of the parking garage, but it was amazing. It's amazing holding the microphone in one hand, putting it down, and joining the mosh pit. 
What do y'all do aside from music? 
Mee: I like really long walks on the beaches. My working out is I take a heavy backpack and go really long distances. I do endurance events, mostly through a company called Go Rock. Aside from that, I like to play other instruments, like banjo and guitar. I program a little, that's why I'm getting a minor in computing. I enjoy doing it. I enjoy the outdoors, I go camping all the time, and I've found a job where I've been blessed enough to work with llamas. I work with a resort out in Capitol Reef, Utah. We take people out and they hike with llamas and (the llamas) carry everything. 
Celi: Aside from music, I do graphic design. All of the flyers for shows, I do those. I did the logo and stuff like that, shirt designs. I also wood work, so I build guitars from scratch. I got to finish up this one so I can use it on the next tour. It's got a nice mini-humbucker in there and I'm really excited to use that. It's gonna be a really noisy guitar.
Glime: I make documentaries through my film minor. I study Marxist literature. I'm trying to learn Ableton so I can produce music on my own. 
Kerr: I do a lot of writing and drawing. Just a lot of sitting down at my desk and doing whatever comes to my mind, be it an illustration or a stream of thought narrative. Aside from that, I do a lot of bushcraft and chemistry. Some lab work. I do a lot. I'm everywhere and nowhere at once! 
Hunt: I've made beats since I was twelve years old, so I try to stay active with that. I always make music whenever I get a chance, like hip-hop and electronic. I DJ but I don't do it as often as I used to. I just try to record as much different kinda music as I can, like sampling. 
______________________________________
Sporting Stetson hats and skater shoes, Yaupon Holly kicks the door open and leaves listeners begging for more at every performance. 
Bridging the gap between Jacksonville punk and indie, Yaupon Holly uses a fusion of punk, psychobilly, and classic rock styles—producing an intoxicating and invigorating sound that's truly representative of the flower they're named after. 
___
For more information or news tips, or if you see an error in this story or have any compliments or concerns, contact [email protected].