How to dress for a job interview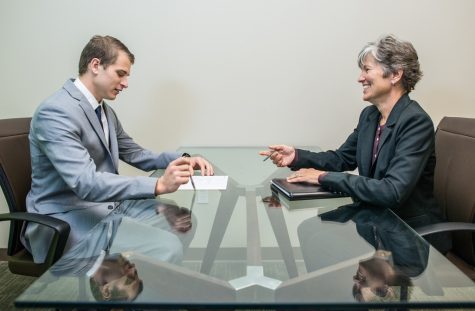 Dressing for a job interview can be a lot like dressing for a first date; you want to find something that represents who you are, but still feels appropriate for the occasion. Picking out the outfit can be stressful and you could cycle through endless different combinations before you settle on the perfect one.
I've been overdressed at interviews. I've been underdressed at interviews. I've been interviewed when I didn't even know I was being interviewed.
Here a few tips from someone who's been on both sides of the table:
Know Your Crowd
If you're walking to an interview at Publix, it may be a little extra to rent a tuxedo. Then again, if you're walking into a big fancy office building, you may want to try a bit harder than a polo and khakis.
Finding the clothes that fit the vibe of the office is a great way to feel comfortable.
If the building has golden trimming and marble pillars, you may want to dust off your suit jacket. If the building has golden arches, a polo or nice button will probably do just fine.
This Isn't Your Moment
You probably have some dope clothes and a unique sense of style.
Leave it at home for the job interview.
Expressing yourself is way less valuable than money. You should be showing the interviewer who you are through your words and answers to questions. Your goal is to get hired, so dress the way you think a business-savvy professional would dress.
No Flops
Unless you're interviewing to be a Lifeguard, leave your flip-flops, slides, and sandals at home.  
Little Things Count
There are ways to be stylish without being gaudy.
A nice tie and pocket square can add an element of pizzaz to your professional attire. Some modest jewelry like a bracelet or earring allows you to express yourself without necessarily going overboard.
Some Last Second DON'TS
Too much cologne or perfume can be overbearing and may make people think you're compensating for a lack of personal hygiene.
No Gum, maybe pop a mint in before you walk into the building but spit it in a fake potted plant right before you walk in.
No Coffee, save all snacks and drinks for before and after the interview. This is your potential employer, not brunch.
Be Comfortable
The most important part of the interview process is to be comfortable. Be confident in yourself and what you wear. Be satisfied with your experience and ability. Be aware that the person interviewing you may be just as nervous as you are.  
Remember, they want to hire you. They just don't know it yet.
—
For more information or news tips, or if you see an error in this story or have any compliments or concerns, contact [email protected]