Chvrches' "Love is Dead" is a bitter disappointment
In 2007, Linkin Park released their third album, "Minutes to Midnight," to a torrent of controversy and fervor from fans. After two relatively similar rap-rock records garnered them tens of millions of supporters around the world, the band decided to change gears completely. With the help of multiple Grammy award-winning producer Rick Rubin, they crafted an anonymous, cookie-cutter arena rock record that so desperately tried (and failed) to find an identity. The album did well enough, but many fans were left distraught, wondering what had happened to the band they knew and loved.
But this is a Chvrches review, so why am I talking about Linkin Park? Well, as it turns out, "Love is Dead" tells an eerily similar story. After two albums of their unique brand of addictive synthpop, the Scottish trio decided to remove the "indie" label from their music and hired multiple Grammy-award winning producers in Greg Kurstin, this time to aid them in their transition towards bombastic arena pop. They also recruited the help of Steve Mac, the producer of 2017's biggest hit "Shape of You," for the song "Miracle" (which also happens to be one of the worst songs on the album, but I'll get to that one later).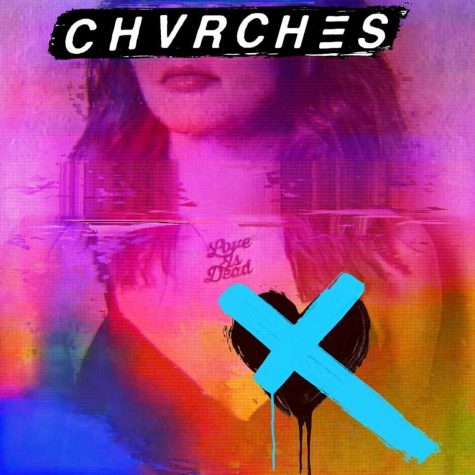 So what does the arrival of all these big names mean for Chvrches? Well, four things: repetition, handclaps, repetition, and finally… REPETITION. Yes, repetition. Lots and lots of repetition. Repetition repetition repetition. See what I'm getting at here? Long story short, some of the choruses on this album are so headache-inducing with their repeating of the same phrase that I began to think that the band hadn't even listened to the tracks before shipping them off for release. Or maybe they did, but in banging their heads against the wall to erase the word "forever" from their brains (the album's fifth track "Forever" sees lead singer Lauren Mayberry repeat that one word for a grand total of 80 times over the course of the song), they actually erased their recollection of the songs entirely, and released them anyway.
And while "Forever" is the worst offender on "Love is Dead," it certainly isn't the only one. "Never Say Die" and "Deliverance" also feature mind-numbingly repetitive choruses, as well as lead single "Get Out." Its chorus is as follows:
Get out, get out
Get, get, get out
Get, get, get out of here
Can we get out, get out
Get, get, get out
Get, get, get out of here
Absolutely inspiring stuff, I know. What makes these choruses even more unfortunate is that the melodies themselves are actually rather fantastic. Whether you want them to or not, many of the songs on this album will be stuck in your head for days. Seriously, the chorus I just transcribed has been swimming through my brain for hours and it WON'T…  GET… OUT (see what I did there?).
By the time we reach the halfway point of the album, a very clear formula has developed. A promising verse leads into a sped-up pre-chorus that foreshadows the song's impending doom, and then it inevitably collapses in on itself with a disappointing chorus. The album's third single "Miracle" (the Steve Mac song) is a perfect example of this formula.
The track starts off like I just mentioned; in fact, it's even more disappointing this time, because the first verse of "Miracle" contains one of the best arrangements on the entire album. Then the pre-chorus hits, the signature handclaps speed up, and you just know the song is about to implode. And implode it does. Mayberry sings "If you feel it could you let me know," with a vocal filter that sounds as if she's screaming through a megaphone (which is rather unpleasant). This is followed up by a chorus of bland woah-oahs that sounds like a desperate attempt to rip-off any of Imagine Dragons' recent radio hits. Trust me, when you're being compared to Imagine Dragons, it means you've gone very, very far off the deep end.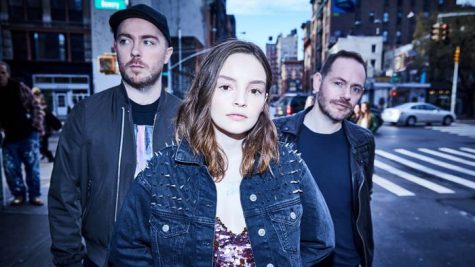 Now I've unapologetically torn this album to shreds thus far, and I must admit I've been rather unfair because it has its fair share of good moments. Really, it does. Like I stated before, the verses are great at building suspense and demanding the listener's attention, and many of the choruses really do possess fantastic, catchy melodies. A few songs lack any major flaws at all. One of these is album opener "Graffiti," which is the strongest song the record has to offer. Reminiscent of the band's older work, it combines an upbeat, driven melody with an interesting tale about teenagers pouring their hearts out in graffiti on bathroom stalls. The politically driven "Graves" is also a standout, as well as the more experimental "God's Plan" which carries similarities to "Science/Visions" from the band's debut album with its dark, captivating synth arrangement and haunting vocals.
Still, these few bright spots aren't enough to stop "Love is Dead" feeling like a failed experiment. This is a record that sees Chvrches attempting to expand the niche they carved out with their first two albums, and only time will tell if they can successfully break into the mainstream. If this had been a debut album from a group of unknowns, I might have been more lenient with it. But coming from one of the best artists in alternative music today, "Love is Dead" is nothing but a bitter disappointment.
Rating: 2/5 sails


—
For more information or news tips, or if you see an error in this story or have any compliments or concerns, contact [email protected].