Mayday Parade return to their signature sound on "Sunnyland"
Pop-punk always makes for an interesting review, because it seems to be the genre where artists have the hardest time standing out.
Most pop-punk albums are simple, catchy collections of three-minute songs for summer drives and long nighttime walks on the beach. Subjects like teenage heartbreak, causing mischief with friends, and getting out of your small hometown are all mainstays. While these albums have the tendency to be formulaic, that doesn't mean they're bad in any way. As a matter of fact, so-called "generic pop-punk" can be perfectly satisfying and enjoyable (see: Neck Deep and State Champs). Still, every now and then an album comes along that does something differently, that stands out from the crowd and demands to be heard.
Mayday Parade is an interesting case, as they've shown the tendency to do both. Their second and fourth albums "Anywhere But Here" and "Monsters in the Closet" are the two Mayday efforts that fall victim to the "generic pop-punk" clichés, sounding more like All Time Low than Mayday Parade. While these aren't bad albums at all, they don't hold a candle to the rest of their discography.
Fifth album "Black Lines" is a standout for its hard edge and Brand New-esque aggressive sound not present in any of the band's other works. Meanwhile, debut record "A Lesson in Romantics," as well as their self-titled third album, both showcase what I like to call the "signature" Mayday sound— one where they take the catchiness and classic lyrical subjects of "generic pop-punk", and infuse them with an acoustic-laced sound and emotionally driven vocals that make the music poignant without being sappy or cheesy.
Due to this cycle of "good album-meh album" that Mayday Parade has established with their first five albums, you could be forgiven for expecting "Sunnyland" to tip back towards the "generic" side of the scale, as the band has done in the past. Fortunately, this album is the one to break that cycle.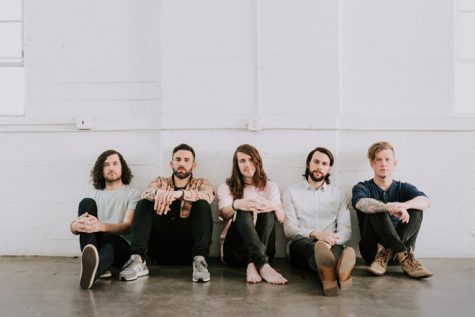 "Sunnyland" sees Mayday Parade returning once again to their signature sound. In fact, this album sounds so similar to their debut at times that there were several moments where I half expected former vocalist Jason Lancaster to pop in for a verse. "A Lesson in Romantics" went on to become a pillar of the pop-punk genre, so returning to this sound means nothing but good things for this new Mayday Parade era.
That doesn't mean you should expect "Sunnyland" to sound like a carbon copy of Mayday's debut. No, this album most certainly has an identity of its own, one where we see the band venture further into the acoustic realm than ever before. Nearly half the songs on the record, including standout track "Take My Breath Away," are purely acoustic ballads. While these songs aren't as consistently quality as the more nostalgic pop-punk numbers on the album, the standouts such as the aforementioned track are among the band's best songs in their discography. Lead singer Derek Sanders is handed the spotlight in this acoustic setting, and his vocals shimmer with life and emotion. The title track, which closes the album, is the best example of Sanders' fantastic vocal performance.
Meanwhile, songs like "Looks Red, Tastes Blue," and "It's Hard to Be Religious When Certain People are Never Incinerated By Lightning Bolts" (2007 song title, anyone?) bring that throwback signature sound that was ever-present on the band's debut more than a decade ago. While former co-vocalist Lancaster is certainly missed, as his chemistry with Sanders was absolutely one-of-a-kind, these nostalgic tracks still stand on their own feet as catchy, enjoyable tunes.
At the end of the day, the marriage of this signature sound with new acoustic touches proves to be a refreshing change of pace for Mayday Parade, keeping things familiar while also testing their boundaries in new ways. As a result, "Sunnyland" is one of Mayday Parade's best and most evocative albums yet. Sure, it isn't quite another "Lesson in Romantics," but it'll give Mayday fans both old and new something to spin on repeat for the next couple years.
Sails: 4/5

—
For more information or news tips, or if you see an error in this story or have any compliments or concerns, contact [email protected].