A sit-down with TERMINUS winner: Connor Dolby
*Correction 7/1 11:37 a.m.: An original publication of this article stated Dolby's production company is called Orange Star Films. This is incorrect, and Dolby's company is called Orange Drive Films.
UNF student Connor Dolby started off his senior year with a win at the national TERMINUS Conference and Festival, which hosts a competition for student filmmakers. His short film Imitations earned him the Golden Tripod Award for Best Picture and was nominated for CMF Best Directing and CMF Best Production Design. Spinnaker sat down with the Graphic Design and Digital Media major to talk about his passion for filmmaking.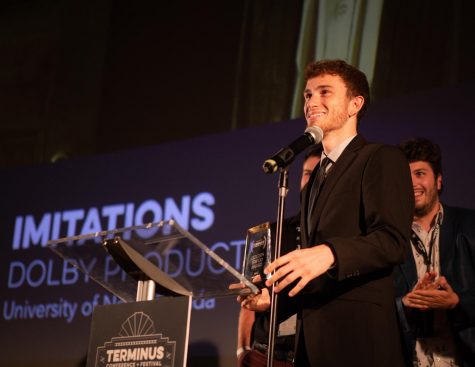 It started in high school, where Dolby would always volunteer to do video projects for class assignments. Once he bought his first camera, be became obsessed with video production and started it up as a hobby.  
"I like telling stories," Dolby said. "I like making people react to things. That's the best part about filmmaking. I get to create a moment that causes someone to feel something."

Once he entered college, it was clear Dolby wanted to make a career out of film production. During his sophomore year, he submitted his film Luminous to CMF, which qualified for the TERMINUS Film Festival and earned him the award for Best Drama.
He continued his winning streak with Imitations, which he created by taking inspiration from his film Luminous to craft a more in-depth story.
"To make it more of a fun experience for myself, I combined it with my last year's short film to make a richer story," Dolby said.    
Now that Dolby is starting his final year in college, he's working to perfect his portfolio and make it big in the film industry. One way he's doing this is by creating his own production company.
"It's called Orange Drive Films," Dolby said. "It's just a company I started so I can be more professional. We do corporate work and some of the sorority videos at UNF."

Dolby's advice for all students wishing to pursue film production is simple: partake in Campus Movie Fest, start practicing now and learn from your mistakes.  
"It's best to just learn by doing. I haven't had any formal training in filmmaking, but from trial and error I've figured it out. But I'm still learning," he said.  
This will be Dolby's last year partaking in CMF. He hopes to branch off and compete in other film festivals.
—
For more information or news tips, or if you see an error in this story or have any compliments or concerns, contact [email protected].