Harry Potter and the Sacred Text: Applying sacred reading to the wizarding world
UNF Interfaith Week strives to bring people of different faiths together through common goals and interests. This week, co-hosts of the "Harry Potter and the Sacred Text" podcast Vanessa Zoltan and Casper Ter Kuile visited UNF to show that this can be done just by reading a little Harry Potter.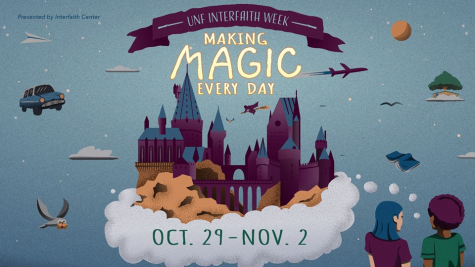 Zoltan, a graduate of the Harvard Divinity School, read quotes from different books in the Harry Potter series and encouraged her audience to apply how they would approach reading a traditional sacred text, such as the Bible or Quran, to these quotes. Zoltan urged people to find what moral teachings could be pulled from these small quotes that they did not notice before using this new approach.
"We believe that by treating things as sacred, you learn how to treat one another as sacred but that it takes practice," Zoltan said.
As a precursor to the podcast, Zoltan applied these same ideas to her favorite book, "Jane Eyre," and started a small weekly gathering for people to analyze the characters, their motivations and struggles as if they were reading the Bible, the Torah or the Quran.
From there, Zoltan and Ter Kuile chose the Harry Potter series because of its popularity with a larger audience. The weekly groups quickly went from four or five people to 90. They started the podcast in 2016, and each week they read a new chapter and focus on specific themes, such as forgiveness or friendship.
In the few years since its creation, the podcast has reached over 75,000 listeners and they travel around the world to host live shows. If you're interested in listening to their podcast, you can find it on Apple iTunes and Soundcloud, or you can go to their website.
—
For more information or news tips, or if you see an error in this story or have any compliments or concerns, contact [email protected]