A look at an athlete from abroad: Iván Gandía-Rosa
This article was originally published in the Fall 2018 "Culture of UNF Issue". 
Student athletes at UNF come from a plethora of different parts of the world, from Germany to Mexico. Iván Gandía-Rosa, guard for the UNF Men's Basketball team, hails from Puerto Rico. \
"I live in Naguabo, Puerto Rico but I do everything in Caguas, Puerto Rico," Gandía-Rosa said.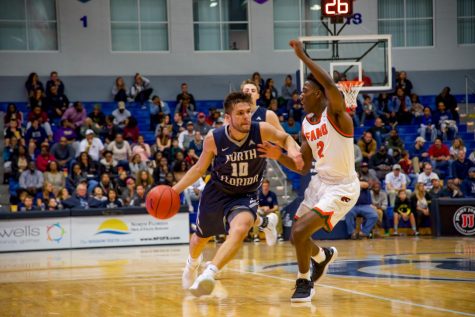 When arriving in the U.S., Gandía-Rosa had to adjust to life in a new country.
"Adjusting to life in the U.S. is pretty hard, especially when you're going to speak a different language. It takes a lot of strength mentally because after some time, you're ready to go back home again," Gandia-Rosa said.
When asked about the similarities and differences in culture between Puerto Rico and the U.S., Gandía-Rosa thought of two big changes.
"The culture [in Puerto Rico] has some similarities to U.S., the biggest changes are the language and the food," Gandía-Rosa said.
Living in Puerto Rico, Gandía-Rosa has made some special memories when at school.
"My best memories were definitely in my school, Notre Dame. That's where I met all my friends and my basketball teammates, to this day we still talk," Gandía-Rosa said.
Being part of a team in any sport involves culture within the teammates. Gandia-Rosa is one of the five returning starters (all Juniors) for this year's basketball team.
"A team culture is very important because it's what keeps the program going. As new people come in, they learn the culture and when they do that, the team always has a chance to win," Gandia-Rosa said.
Last season, Gandia-Rosa led the ASUN conference in assists per game and matched UNF's single season record for 205 assists.
"My experience at UNF has been great, I feel like we have the best coaching staff and I have the best teammates," Gandia-Rosa said.
—
For more information or news tips, or if you see an error in this story or have any compliments or concerns, contact [email protected].