Tigers trounce Ospreys in lopsided road loss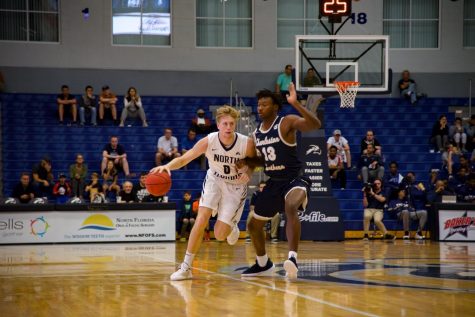 It was an uphill climb from beginning to end for the Ospreys as they faced No. 12 Auburn on the road.
The Ospreys scored the first points of the game on a jumper from Redshirt-Junior J.T. Escobar. Throughout the first ten minutes of the half, the Ospreys were within 10 of the Tigers, but the home team pulled ahead by outrebounding the Ospreys with 21 rebounds to the Ospreys' eight. At the end of the first half, the Ospreys trailed, 45-23. Auburn also shot 43 percent from the field in the first half. Junior Noah Horchler led the team in points at the end of the first half with eight.
As the second half started up, the Ospreys were trying to get back in the game but the Tigers continued to shoot well (51 percent in the second half). The Auburn bench delivered with 27 points as the starters were pulled because the game was getting out of reach. Eventually, Auburn won 95-49. With that win, the Tigers are now 11-2. Senior Bryce Brown led the Tigers in scoring with 18 points throughout the game (5-10 from beyond the arc). Four other Tigers scored in double-digits against the Ospreys (Chuma Okeke, Austin Wiley, Malik Dunbar, Anfernee McLemore).
Horchler and Junior Ezekiel Balogun led the team in scoring with 10 points. Horchler also led the squad in rebounds with seven. The loss drops UNF to a 5-9 record although the Ospreys had the toughest non-conference schedule in the state of Florida, according to ESPN. The Ospreys head home to play Florida National University on Wednesday, Jan. 2 at 7 p.m.
—
For more information or news tips, or if you see an error in this story or have any compliments or concerns, contact [email protected].