The University of North Florida has received more coverage about post-tenure review negotiations in the last 48 hours—mostly over the announcement that negotiations with the faculty union had reached an impasse—than in the last three months since negotiations began. 
Though there are 13 items on the agenda for the Board of Trustees's Monday meeting, the vote on a post-tenure review policy has undoubtedly garnered the most attention. It's nearly impossible to fit 14 multi-hour negotiation sessions into a short article, so here's what you may be missing about what the Board will decide on Monday, and why it matters. 
How did we get here? 
Kicking off June, a university committee approved a post-tenure review policy and sent it to the BOT. Four days later, the faculty union issued a cease and desist letter to the university. In it, they demanded that the university bargain over the policy with them, lest they be in violation of their contract, the union said. The following week, negotiations began. 
With history established, let's start with the most recent news: UNF officially declared an impasse in negotiations on Wednesday. 
What does that mean? An impasse is when both parties in a negotiation fail to agree on a final product. A final product, in this case, is a post-tenure review policy. The two parties are the university Board of Trustees bargaining team and the faculty union bargaining team. 
The faculty union is called UFF-UNF, and they are a chapter of the statewide organization "United Faculty of Florida." Where the state UFF represents faculty across Florida, UFF-UNF represents faculty at UNF.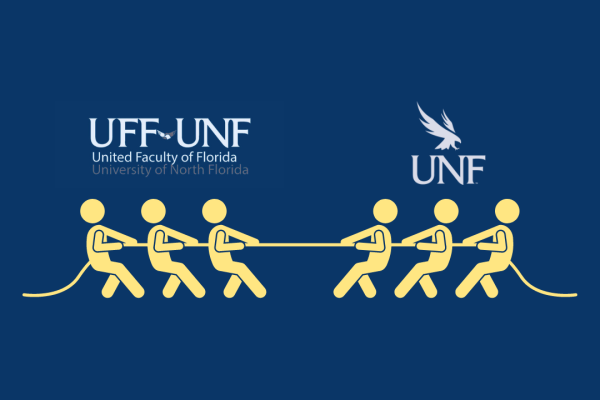 It's important to mention that, according to UNF's faculty union leadership, UNF is just one of two universities in Florida that are negotiating a post-tenure review policy. The other is the University of West Florida. 
President Moez Limayem announced the decision to forward a policy to the BOT. In a mass email to university faculty members, he called it a "formal legal step" to submit a policy by the Board of Governors' deadline in October, and wrote that UNF is "obligated to proceed."
According to the president's email, this is what the policy contains: "we are submitting UFF's last proposed Policy language, plus the clarification language straight from the BOG's definitions, to the Board of Trustees for their Sept. 18 meeting." 
What's this language he's talking about?
Negotiating across two sides of the same coin
Both parties have negotiated for language that will protect their side the most. For the faculty union's part, they have worked to add and keep things that they believe will protect faculty members' best interests. On the other hand, the Board of Trustees bargaining team has worked to retain and finalize language that would, in their view, best protect the university. 
The teams made progress in the months of negotiations, and an end was in sight last week. However, there was one final sticking point for the faculty union. 
The BOT team was pushing for language that would allow faculty who consistently received "meet," "exceed" or "far exceed expectations" on their annual reviews to still be rated as "does not meet job expectations" on their post-tenure review. Faculty who received that rating could then be put on a "personal improvement plan" and possibly fired a year later.
Negotiation sessions have largely stayed professional, but tensions were definitely higher during these last couple of weeks. Watch recordings of those sessions here.
"I am disheartened by those who called this work to comply with the law an effort to 'target' or 'purge' faculty," President Limayem wrote in his email to faculty earlier this week. "That is simply not true."
Simply put, regardless of the law's language, faculty disagree. Liamyem's email communicated a message of unity and support even as its contents explained how a post-tenure review policy was sent to the Trustees without the faculty union's agreement. To read the president's full email, visit here.
It's safe to say that faculty are solidly against post-tenure review, but that's not up for negotiation; what's included in the policy is. 
"Extremely disturbing"
The UNF faculty union created a petition last Saturday calling for support from the community to push back against that, for them, was the final sticking point. In less than a week, it garnered over 1,400 signatures, at the time of writing, with more added on every day. 
"While both teams have nearly reached agreement, a final sticking point is extremely disturbing," the union wrote in the petition's description. "We must not allow administrators to arbitrarily assign faculty 'does not meet expectations' ratings, putting their livelihoods and the well-being of UNF students at risk."
They also sent out a poll in a mass email to UNF faculty and administration last month before their Sep. 1 negotiation session. In total, there were 117 responses. Asked, "Should UNF faculty undergoing post-tenure review who have met or exceeded their expectations keep their jobs," 88% of respondents said yes. 
According to UNF's FY23 data previously acquired by Spinnaker, the university employs about 640 faculty, ranging from instructors to full-time professors. 
A similar result is seen statewide. The United Faculty of Florida—the main faculty union for all of Florida, of which UNF's faculty union is a chapter—did a survey of 642 faculty in the state. Thirty-six percent said they did not plan to stay in academia long-term "because of changes to tenure, contracts and academic freedom," according to the results. 
Similarly, approximately 46% of respondents said they planned to seek employment in another state "within the next year." Read UFF's full press release here. 
What to expect on Monday
The BOT will meet for their quarterly meeting at 8:30 a.m. on Monday in the University Center, Board of Trustees Room. After public comment and a student presentation, the first item on the agenda is the post-tenure review policy. 
To download the full agenda and view information about the Trustees, visit here. 
Spinnaker will be in attendance, bringing coverage during and after the meeting. Follow us on X to stay in the loop. 
___
For more information or news tips, or if you see an error in this story or have any compliments or concerns, contact [email protected].