The University of North Florida volleyball team faced off against the USC Upstate Spartans on Saturday afternoon. After a lengthy contest over two hours long, the Spartans won 3-2
USC Upstate carried the momentum throughout the opening set, with the Spartans keeping their lead,thanks to six unanswered kills garnered early in the period. They were able to take the first 25-18 thanks to four aces in the set.
The Ospreys fought back in the second set, with North Florida's prolific outside hitters Mahalia White and Amy Burkhardt each garnering five kills, and Burkhardt closing out the final kill, marking a back-and-forth set that the Ospreys won 25-21.
In the third set, the Spartans were able to capitalize off North Florida's mistakes, putting up a run of four unanswered kills, two of which came off attack errors made by the Ospreys. These errors proved to be costly, as USC Upstate was able to take a three point lead and win the set 25-23.
Tides shifted once again in the fourth set. North Florida dominated the fourth as sophomore middle blocker Kierstyn McFall gained five kills in the frame. The Ospreys as a whole performed at a .289 hit percentage, sending the Spartans to a tiebreaker with a crucial 25-17 set win.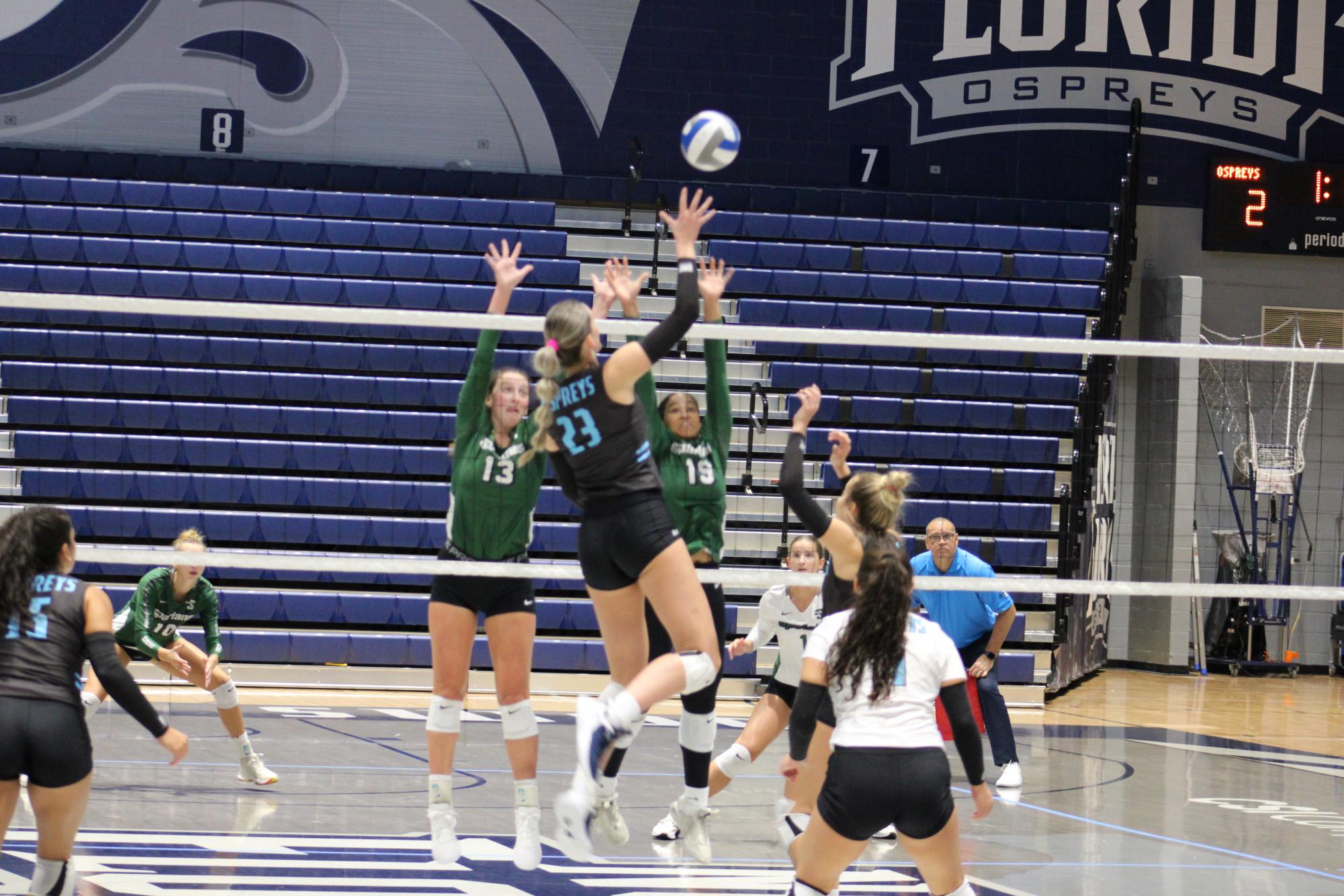 The tiebreaker fifth and final set was all Upstate, however. The Spartans crushed North Florida's hope to win by holding on to a substantial lead throughout, with USC Upstate taking the set 15-8 and winning the match.
When asked about her thoughts on the Ospreys' performance, North Florida head coach Kristen Wright emphasized that the defense was quite startled by the Spartans' offensive game plan. She believes that the team will need time and focus in practice to better respond to such situations in the future.
"I think we were both up and down, calm and just playing in the moment." Wright said, "Just adjusting to what they're doing offensively. I think that we got a bit on our heels in terms of what they were trying to do and, in the end, what they were trying to do offensively kind of rattled our defense to transition to offense, and at the end of the day you've gotta score. So our defense kind of broke down, and that's something that we've just gotta work on in practice."
North Florida volleyball will be on the road this week, as the Ospreys will be traveling to Tallahassee to take on the Florida State Seminoles Tuesday at 5 p.m. Then on Friday, the team will head to DeLand to face the Stetson Hatters at 6 p.m. for the first conference matchup of the season.
More information about Ospreys volleyball as well as all other North Florida sports can be found at the UNF Athletics website.
___
For more information or news tips, or if you see an error in this story or have any compliments or concerns, contact [email protected]