It's been four months since the Interfaith Space in the University of North Florida Student Union was officially closed. Since then, numerous religious students have expressed frustration and said they feel ignored by both Student Government and the university.
Like the name suggests, the room was intended to be a place where religious and non-religious students could pray and meditate. It was used over 550 times in the nine months it existed, according to the Interfaith Center's metrics. 
Although the room itself was originally created in an agreement between Student Government, the Interfaith Center and the Student Union, its life was in the hands of SG's executive administration regarding whether the space would be renewed each year. If the executive branch didn't feel it should be renewed or that everyone met the agreement, they could choose to return it to the Student Union. 
That's exactly what happened in July when Student Body President John Grosso decided to release the room back to the Student Union. 
The decision was made "[after] reviewing the utilization from the reports and with consideration for the need for more common spaces for students to gather," Grosso wrote in a statement. He would later clarify that there was a discussion between SG and the Interfaith Center that finished with an understanding that the center would "work towards finding [a] permanent space."
Such an understanding was not in any of the documents reviewed by Spinnaker and could not be independently verified by Spinnaker. 
A decision not well-received
Spinnaker's original coverage of the news was met with outrage from students on social media. Now, with the bulk of the semester over, some religious students remain angry. Many of those students have spent time questioning if UNF values them, they said. 
Some feel that Student Government puts academics ahead of faith with their decision when the two are equally important to the lives of many students. Pulling away the designated space for religious and non-religious prayer left many feeling vulnerable on campus. 
"Trying to find a weird corner of the library or a random hallway to pray in is really awkward, especially for me as a Jewish person," said Lee Jordan, a senior studying sociology and president of UNF's Jewish Student Union. "I don't necessarily want a bunch of people looking at me because it's awkward and takes me out of the headspace I'm supposed to be in."
Others argued that SG's reasoning for removing the prayer room—to create more common spaces for students—showed a narrow view of UNF's student body. The prayer room was a common space where students already gathered often, they said. Of the 550 times it was used, 51 students visited on a regular basis, according to the Interfaith Center.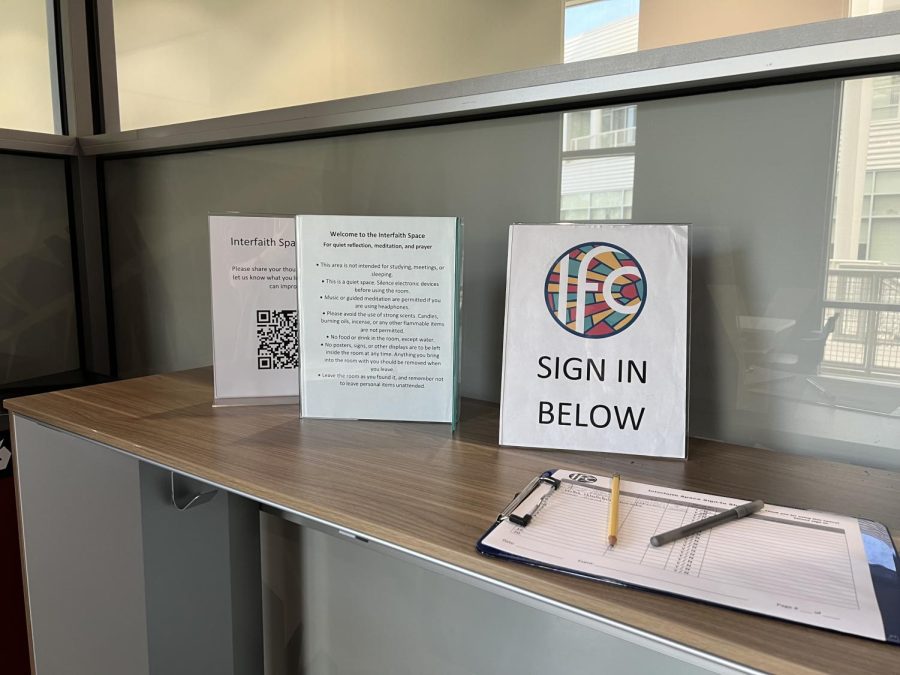 Jordan pointed towards the myriad of rooms and lounges across campus. In his view, their apparent lack of usage showed that SG and UNF as a whole don't view religious and spiritual students as one of their top priorities.
Though the Interfaith Center was required to track the usage of the Interfaith Space with a sign-in sheet, there isn't one for student lounges, so it's unknown how often they are used. 
Outgrowing current accommodations
While the Interfaith Center still has a room for prayer and meditation, it's only open from 9 a.m. to 5 p.m. on weekdays and is closed on weekends. The room is also small—able to accommodate just four to five people at once, maximum—which can make group prayer incredibly difficult.
Multiple students emphasized community as a major part of their religious practices. Samira Yssa, a Muslim student in her junior year majoring in biomedical sciences, said that while the Interfaith Center's prayer room is useful, it isn't accommodating of group prayer.
Those factors made a place like the Interfaith Space an ideal location in terms of hours and accessibility, according to Interfaith Center Director Matt Hartley.
Despite the fact that it's no longer an official prayer room, Yssa said she continued to pray in the lounge as a form of protest and a statement of its necessity. She has also spearheaded an initiative for a new interfaith room on campus.
But it's not just UNF's religious students frustrated with the room's removal. Even some non-religious students, like Hannah Wehrung, a sophomore majoring in international studies, used the room and now considers its return a priority.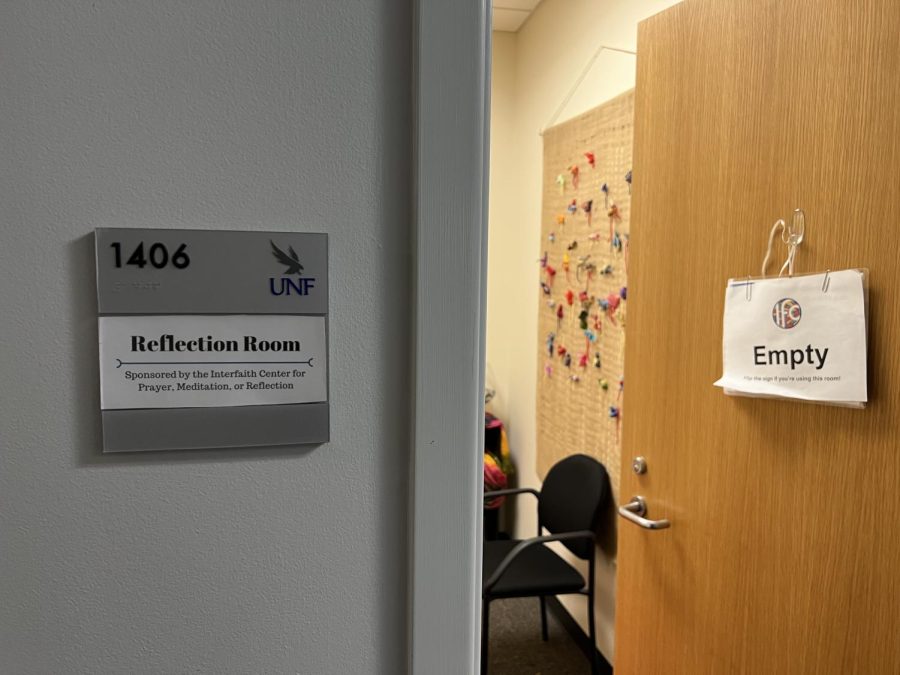 Wehrung told Spinnaker she used the room to meditate. Student Health Services had referred her to the Counseling Center's "Relaxation Room," but it was closed during the COVID-19 pandemic and was never reopened. Instead, she went to the Interfaith Space. 
"I think it's valuable that those are provided, and it's kind of exciting to have that on campus," Wehrung said. 
Though she said she only used the room once, she meditated several times daily and thought it was a great resource for students of all backgrounds.
The university administration should provide a permanent room for students to pray, meditate or enjoy some quiet time on campus, Wehrung argued. 
Interfaith at UNF
Looping in the university to establish a dedicated Interfaith Space is something Hartley also believes in. During a discussion on the future of a prayer room at UNF last month, Hartley told students he'd spoken to President Moez Limayem, who said he agreed that the university should provide such a space.
Though nothing is set in stone, UNF Chief Diversity Officer Richmond Wynn said he has been looking at potential open spaces on campus for such a room. 
"We are still working on securing a location," Wynn wrote in an email to Spinnaker. "It is complicated by several office moves and construction happening right now."
Despite a multitude of renovations across campus, the university appears open to supplying a space mirroring the Student Union Interfaith Space. In the meantime, students hope the UNF administration will listen to their concerns while they continue the search for a safe and accessible space for prayer and meditation.
___
For more information or news tips, or if you see an error in this story or have any compliments or concerns, contact [email protected].