Hip-hop outfit boasts 'elevated' eclectic sound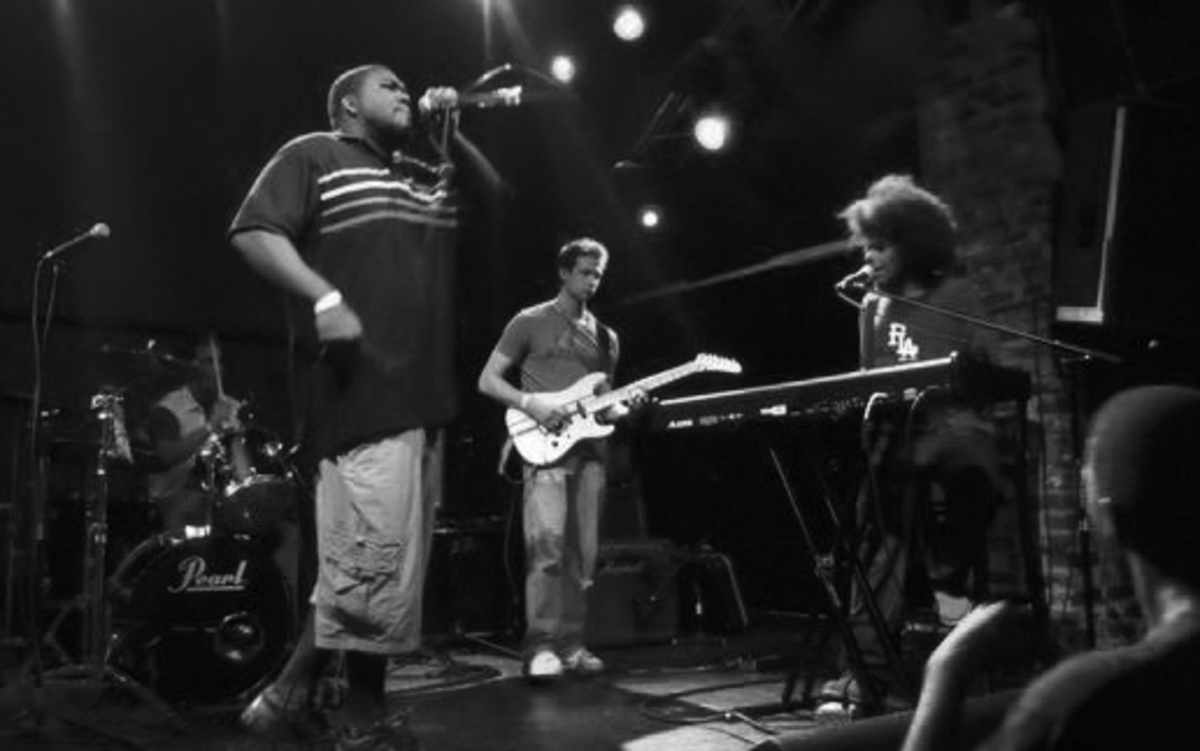 Inside, Shantytown Pub appears to be an average pub. Beer taps, coasters and Polaroid pictures of its patrons decorate the walls.
But outside, people park their bicycles and flock to the bonfire and picnic tables enclosed by a wooden fence decorated with graffiti.
The underground indoor/outdoor bar-turned-music-venue is filled on Thursdays with a dancing, energetic, diverse audience listening to a fusion of hip-hop, jazz, rock, funk and reggae.
This combination of crowd-pleasing mixes best describes the eclectic sounds of hip-hop band The Elevated Hip-Hop Experience.
The group formed by former UNF student Jeremy McKinnies and cohort Byron Spates, also known as Maestro and Steady Rock, started off as two MCs rapping over beats.
It has turned into a full eight-member band consisting of Frank Elkins on bass, Alex Kearson on guitar, Takara Huston on background vocals, Eric Marant on drums, Dorian Lopez on percussion and Anthony Norton on saxophone and flute.
Maestro wants the group's music to be thought provoking and mood inspiring, he said.
"Lyrically, life is the best inspiration," Maestro said.
He writes the songs and the band outlines and pitches ideas for what will be added musically.
"We want to be bracingly original, like Fishbone, for hip hop," Elkins said.
The band's other major influences are record producer
J Dilla,  A Tribe Called Quest, Common, the Roots, Parliament Funkadelic, Prince and Bob Marley, among others.
The group's set list consists of original songs including "Hip-Hop," "Cheat Codes," "Rock Joint" and "Now Showing," which can be heard on its Myspace page at www.myspace.com/theelevatedhiphopexperience.
The band performs covers incorporating its own blend of hip-hop flavor. They performed covers of "Crazy" by Gnarls Barkley, "I Shot the Sheriff" by Bob Marley, "Just a Friend" by Biz Markie and "Papa was a Rolling Stone" by The Temptations, which really got the crowd at Shantytown Pub grooving. The Elevated Hip-Hop Experience mostly dedicates Thursday nights to cover songs and instrumentals.
"Crowd participation is a major factor," Maestro said. "Crowds come and are entertained."
The band formed and started booking venues after Ian Ranne, also known as Triclops I, an independent promoter and co-owner of Shantytown Pub, met Maestro through a mutual friend. He saw the potential for a hip-hop band and booked them at Club TSI in downtown Jacksonville two years ago.
"They were the only hip-hop band at the time," Ranne said. "They have progressed a lot."
Since then, The Elevated Hip-Hop Experience has performed at many venues, but Maestro still has that
Osprey pride.
"We want to perform on the Green at UNF more than anything," Maestro said.
They have performed at Freebird Live, Fuel Coffeehouse, Starlite Café, Burrito Gallery, 331, and have also performed at the Frisky Mermaid in Fernandina and Full Moon Saloon in Daytona. The Elevated Hip-Hop Experience will be performing at Jack Rabbits Jan. 30 and Bourbon Street Station Feb. 6 for Girls Gone Wild. But the band has made its home performing at Shantytown Pub since the beginning of the year and will continue to every Thursday from 10 p.m. until 2 a.m.
Shantytown Pub, co-owned by Ranne and Marianne Purcell, is located at 22 W. 6th Street in Springfield and is the home for many local and regional band performances. The bar/venue has no cover charge and offers wine and beer, as well as micro brews from the local Bold City Brewery.
The Elevated Hip-Hop Experience is currently looking to expand the band by adding a violin, trombone, and trumpet player. Contact the band for college parties and events through Maestro at [email protected]
E-mail Jimmel Walsh at [email protected]