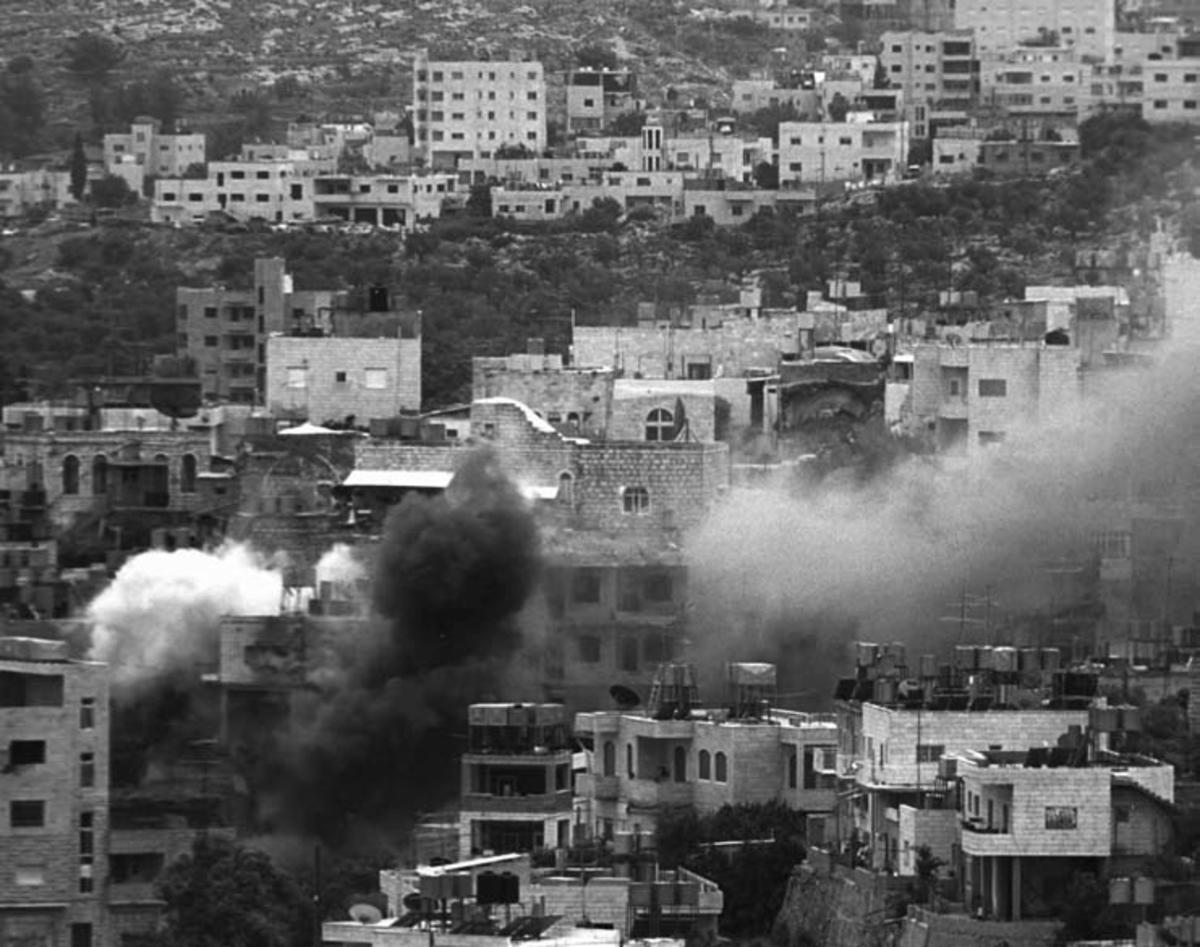 President Barack Obama's efforts to stabilize a tenuous cease-fire between Israel and Hamas were jeopardized Jan. 27 when a roadside bomb planted by Palestinian militants hit an Israeli patrol along the Gaza Strip border, killing one officer and wounding three others.
Israel launched a series of counterstrikes after the explosion, killing a farmer, according to Palestinian medical officials.
The tit-for-tat assaults cast a cloud over the arrival in Cairo, Egypt, of George Mitchell, Obama's Middle East envoy, who's on a mission to cement the 10-day-old cease-fire.
The former U.S. senator headed to Jerusalem Jan. 28 with Israeli leaders warning that they'll inflict punishing responses to cease-fire violations.
"Whoever hits us will receive a severe blow," Israeli Defense Minister Ehud Barak said Jan. 27. "We cannot achieve peace unless we are willing to stand determined, ready with the left hand looking for any opening for peace and the right hand on the trigger."
Gaza residents had anticipated the Israeli retaliation, and braced for more.
Residents in central Gaza said they'd seen small numbers of Israeli tanks and Special Forces units slowly pushing into the isolated Mediterranean strip. Gaza health officials said Israeli forces killed a Palestinian farmer soon after the morning bomb attack. An Israeli airstrike later hit a moped in Khan Younis, injuring a driver who Israeli military officials said had taken part in the morning attack.
No Palestinian group has claimed responsibility for the roadside bomb. Jan. 27, Palestinian militants released a high-quality video to local journalists showing the explosion and subsequent shootout along the border.
The incidents were the most severe test so far of the uneasy cease-fire that took hold when Israel unilaterally ended its three-week military campaign to destabilize Hamas rulers in Gaza and halt persistent Palestinian rocket fire aimed at southern Israel.
Hamas and the other main Palestinian militant groups soon followed the Israeli cease-fire declaration with their own unilateral truce. Since then, Gaza militants have fired no rockets into southern Israel, though they did launch several mortars one day last week.
The Israeli strikes killed more than 1,200 Palestinians during the 22-day military campaign in Gaza, making it the most deadly Israeli operation in Gaza since it seized the Mediterranean strip in the 1967 war.
During the campaign, nine Israeli soldiers were killed in Gaza, and Palestinian rocket fire killed four Israelis in southern Israel.
During the early days of the truce, Israeli naval ships repeatedly fired on fishing boats along the Gaza coast. At least 11 Palestinians were injured by the Israeli shelling, which ended last Jan. 23.
When Israeli leaders announced the unilateral cease-fire, they warned that Gaza would face a painful response if militants resumed their attacks.
Amnon Lipkin Shahak, a former Israeli army chief of staff, told Israel Radio on Tuesday that "there needs to be a painful strike against those responsible" for the bombing.
"We need to make rules that will protect the residents of the south," he said. "We cannot accept attacks from Gaza."
Ihab Ghusain, a spokesman for the Hamas-led Interior Ministry in Gaza, said Tuesday that Palestinian militants had every right to launch such attacks because Israel had broken the calm repeatedly with its attacks on Gaza in the past week.
Residents in Gaza have been on edge for days as rumors have swept across the area that Israel was preparing to resume its airstrikes.
During the weekend, Palestinians cleared out of government offices and security compounds amid rumors that Israel was going to attack.
Hamas guards temporarily closed the Rafah Jan. 25 crossing with Egypt amid rumors that Israel was preparing to hit the network of adjacent smuggler tunnels, which were a prime focus of airstrikes during the military campaign.
(c) 2009, McClatchy-Tribune Information Services.
UNF's Pro-Isreali Group
• The Student's Organization for Israel scheduled it's first meeting of the semester 5:45 p.m. Jan. 28 in
Building 14, room 1603.
• The centerpiece for the meeting will be President Jason Kroitor's discussion on his experiences in
Israel during the recent Hamas-Israel conflict in Gaza and the West Bank.
• SOFI Vice President Brandon Eady is also presenting a report on the importantce of lobbying members
of Congress about Israel.