Ospreys fall in final minute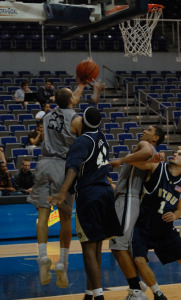 The UNF men's basketball team lost 67-64 to Atlantic Sun Conference frontrunner East Tennessee State University Feb. 1 after keeping the lead for most of the game.
After having a 14-point lead entering the second half of play and a 10-point lead at the half, the Ospreys (5-17, 3-9 A-Sun) could not hold on to preserve the victory. The ETSU Buccaneers (16-6, 10-2 A-Sun) outscored the Ospreys 44-31 in the second half of play.
The Buccaneers' offense was kept to less than 40 percent shooting in the first half by the Osprey defense, but recovered to shoot 63 percent from the field in the second half. ETSU scored 36 of the 67 points in the paint, with 26 in the second half.UNF did hold ESTU's Courtney Pigram, the 2007 A-Sun Player of the Year, to eight points.
Junior guard Eni Cuka led the Ospreys with a game-high 24 points, including four shouts from beyond the 3-point mark and was matched by ETSU's Mike Smith for most points. Smith shot 9-11 from the field and had a game-high 14 rebounds.
UNF  jumped off to an early 8-2 lead with 3-pointers from Cuka and junior guard Germaine Sparkes. The Ospreys ran the score up to 29-15 before an 8-4 run by ETSU cut the lead to 33-23 before the break.
In the second half UNF lost the ball early – and often – turning it over five times in the first five minutes. The Buccaneers took the lead when Kevin Tiggs had an offensive rebound, which he scored to take a 50-49 lead.
UNF tried to rally with 3-point attempts from Cuka and junior guard Stan Januska but fell short in the final minute of play.
UNF head coach Matt Kilcullen said the game came down to their experience of ETSU's upperclassmen
versus the UNF's experience of freshman and sophomores.
UNF returns to the court at Kennesaw State University Feb. 7 at 7:30 p.m.
E-mail Matt Head at [email protected]