Syquio makes A-Sun honor, UNF history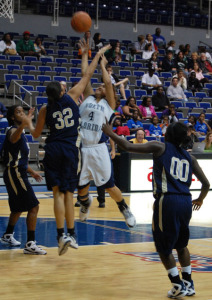 The UNF women's basketball team avenged an earlier loss against Atlantic Sun Conference leader East Tennessee State University in an 80-73 win Jan. 31.
The triumph marks the first ever win against ETSU after six total series losses. It also signifies the second winning streak of the season for UNF as well as sophomore point-guard JulieMay Syquio's first career double-double. Syquio scored 17 points and 10 assists, along with 6 steals in 26 minutes.
Syquio's play was also enough to earn her the first Atlantic Sun Conference Player of the Week honor in Osprey women's basketball history.
"I believe she is a big part of why we have won three of our last four," head coach Mary Tappmeyer said in a press release. "She is focused on making her teammates better around her, and it is spreading through our whole squad."
UNF started the game by scoring the first six points, and ETSU caught up and took the lead 16-14 with 12 minutes, 7 seconds remaining.
The Bucs continued to stay on top for the majority of the first half, but the Ospreys caught up with five minutes to go.
Freshman guard Brittany Kirkland hit a 3-pointer at 1:08 that put the Ospreys ahead, and they did not allow the Bucs to score again in the first half.
UNF entered the second half with a 39-35 lead.
ETSU claimed the lead again at the top of the second half, but with 10:10 on the clock, an assist by Syquio allowed senior forward Jennifer Guldager to shoot a layup that tied the game 54-54.
Senior guard Jennifer Bowen broke the tie with the first of two key 3-point shots.
Bowen scored her total 11 points in the 17 minutes she played in the second half. Her second long-range jump brought the Ospreys ahead by 12 points with four and a half minutes left, and the team kept its lead for the remainder of the game.
ETSU junior guard Siarre Evans broke UNF's double-digit lead to three points with 1:48 left. However, Syquio hit two free throws and a layup, followed by another two free throws that Kirkland made to secure the win.
"[Evans] got 27-10, but we got the win, so I don't really care," Tappmeyer said about Evans' above average points and rebounds in game.
UNF plays its next game against Mercer University at 7 p.m. Feb. 5.
E-mail Amanda Somich at [email protected].