Art Fest '09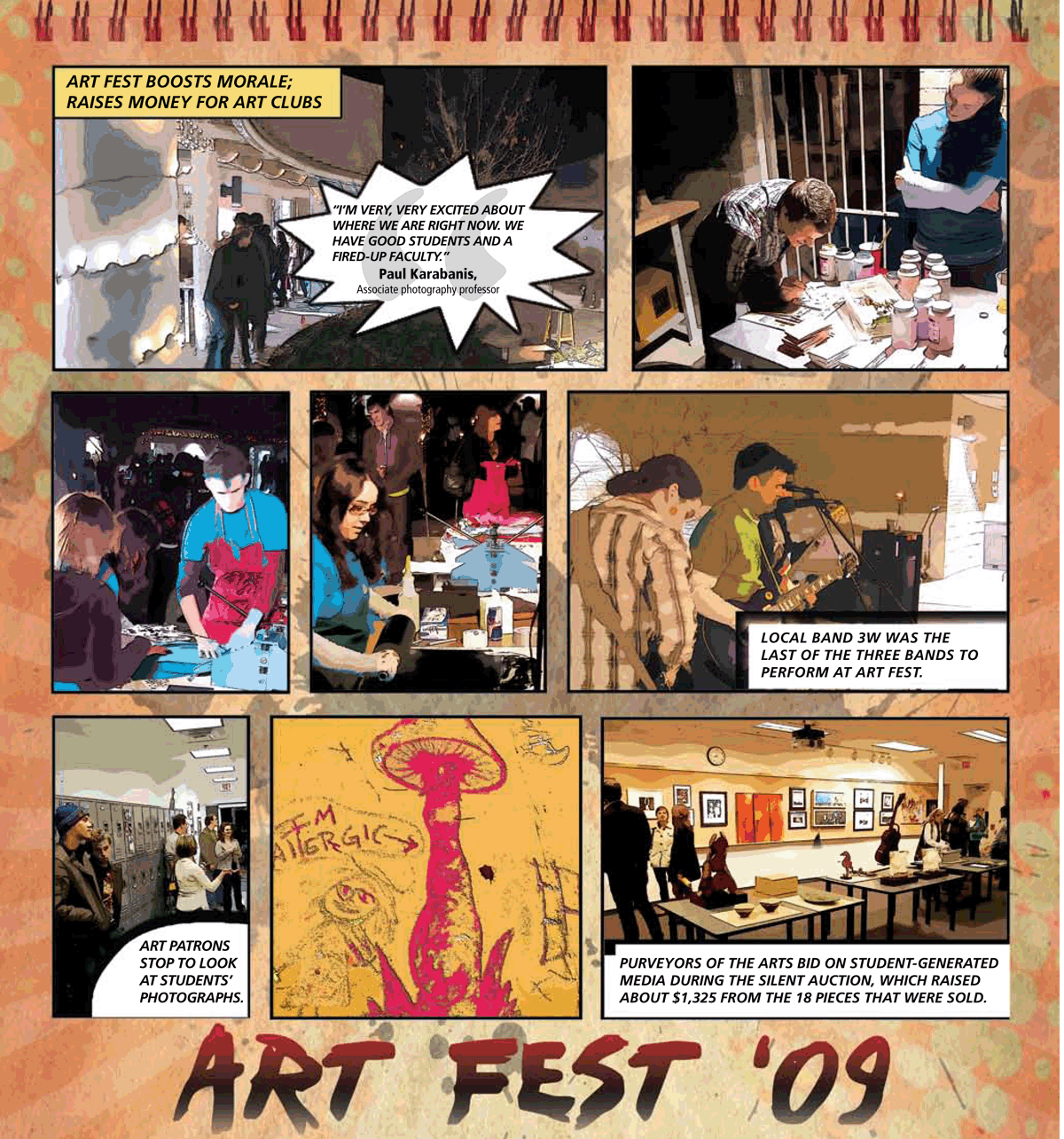 Take a bunch of art-enthusiast students, give them one night to show you what they can do, then pray they raised enough money to be able to do it all over again next year.
Art Fest brought out nearly 150 people at any given time Jan. 20 from 6 p.m. to 10 p.m. in an attempt to benefit the various art clubs on campus. Attendees endured the bitter bite of the wind, shuffling from doorway to doorway in the quad behind the Fine Arts building and seeing displays and demos of student and faculty artwork.
Icicle lights were strung in a circle, faux wooden torches lined the walkways and three live bands made for a relaxing, communal environment. It was an opportunity for those not involved with the department to see the facilities where students work and the resources available to them.
"What a moral booster this is; it not only engages students and faculty, but we can become lackadaisical about art, [and] this energizes us all," said Dominick Martorelli, associate photography professor.
A 25-30 member committee had been plugging away for the past several months to make the event possible, asking art majors to volunteer their time as workers at the fest.
Junior painting major Laura Seeback was in charge of leading people around and explaining what her program does at the event. There is no official painting club yet, so the proceeds went to the department itself.
"It's disappointing we don't have one, but this shows the need for one," Seeback said.
There were also $10 Art Department T-shirts for sale and $2 raffle tickets for gift certificates to local craft stores as an added way to raise money.
Then there was the silent auction of 65 pieces available for bidding until 9 p.m. The highest piece started at $1,000, the lowest at $3. The auction took place around 9:45 p.m. and raised a total of about $1,325, with 18 pieces being sold. Seventy percent of the bid money went to the artist, with the other 30 percent going to the art club of their choice.
But apart from raising money, one of the main objectives of the event was to get the outside community involved and engaged, Martorelli said.
"What's problematic is that we're kind of removed from Jacksonville, where the university is located, [but] there's a lot of people here not germane to the UNF community, and many of the art pieces have been purchased by them," Martorelli said.
Both Martorelli and Paul Ladnier, associate professor of painting and drawing, agreed the event is also just a great time, with free alcohol provided by Seven Bridges and food from
Mojo's Kitchen.
Junior philosophy major and art minor Sam Manderick, whose band was one to perform at the fest, said he would describe the night as very chill and down-to-earth with a nice crowd coming and going.
Martorelli and Ladnier said the university was 100 percent behind the students for the event and attributed and praised many names in making it possible, such as Chair of Art and Design Debra Murphy, instructor Jenny Hager, associate photography professor Paul Karabinis, Emily Arthur-Douglas, and long time supporters Jim and Judith Niss, who have contributed time and donations.
Ladnier said it was a joint effort on many faculty members' parts.
"It's just fantastic; it's brought students, faculty and the community out," he said. "What I've seen is that it's grown from last year and much more successful, and I see it being an annual thing that people look
forward to."
An aura of calm appreciation was present at the fest, vouched for by the smile on every child, parent, friend and teacher of students exhibiting their art.
"I encouraged my students to come out and put pieces in; the work is outstanding and of very high quality," Ladnier said. "There is better PR, networking and cooperation this year, and the momentum has grown. There are two or three times as many students participating this year [from last]."
Associate  math professor Leslie Roberts said he was walking to his car in the garage, heard what he swore was live music, and decided to check it out.
"This is great; I'm jealous of art majors. Under the new federal administration, who knows, maybe the arts will get funded again," Roberts said.
Karabinis said the event is a festival, with the goal being to open studios, recruit and get work displayed around town.
"I'm very, very excited about where we are right now. We have good students and a fired-up faculty," Karabinis said.
E-mail Sarah Gojekian at [email protected].