Swoop the Loop draws nearly 1,000 runners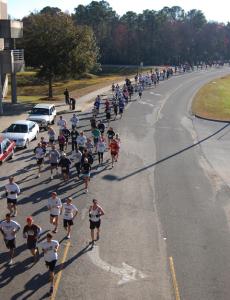 A record number of people showed up to run for a cause Feb. 7 at UNF's second annual Swoop the Loop 5k race.
Even though it was a bitter cold morning, more than 925 students, faculty and members of the UNF community participated in the event, which was part of philanthropy week. Almost $3,000 was raised to benefit the UNF Disability Resource Center and the On Campus Transition Program.
"The event is such a great idea," UNF Student Body President John Barnes said. "The event is even larger than last year, and we were hoping for 1,000 runners. It's beautiful to see things come together."
Former Student Body President Rachel Tutwiler started this event last year during her administration, and was able to draw a crowd of more than 600 runners to the inaugural race. Tutwiler, along with other SG representatives, attended the event Feb. 7.
The SG Senate provided funds for the race with the distribution of Activity and Service fees, with hopes of making Swoop the Loop a UNF tradition, SG Treasurer Mark Smith said.
"This race helps unify the UNF community," Student Body Vice President Mike Saathoff said. "We're all here together for a cause, and when we're all out there running, that's what keeps you thinking you have to finish the race."
Fraternity and Sorority Life was also represented at the event, including members from Sigma Alpha Epsilon who won first place for raising the most support during philanthropy week.
Volunteers from the On Campus Transition program, Residence Life and cross country and track coaches also joined in the efforts.
"I felt strong and came out and ran hard this morning," Sigma Alpha Epsilon member Mack Volk said. "I just ran for the experience and happened to win philanthropy week [with my fraternity]."
As the race came down to the finish, runners started piling up to get the results of their times and receive prizes in addition to the T-shirt they got when they signed up for the race.
The first place winners for the race were Ted Devos, who won the men's open bracket with a time of 16 minutes, 33 seconds; Michelle Krueger, who won the women's open bracket at 18:31; Stephen Beard in the men's masters bracket with 21:08; and Lauri Graham in the women's masters bracket at 21:41.
Volunteers helped hydrate the runners throughout the race and registered the hundreds of racers before it began.
"I was really surprised about how much support we had," said Victoria Elian, director of UNF Student Life who organized the race. "We actually had some volunteers come we weren't expecting."
Everything ran so smoothly that Elian got to race in Swoop the Loop when she wasn't expecting to, she said.
"When the gun went off, I just jumped right in," said Elian. "I was really excited everything turned out so well."
E-mail Heather Furey at [email protected]