Ospreys still undefeated after pair of wins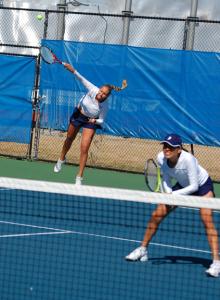 The UNF women's tennis team continued its undefeated season with wins against Florida A&M  University and Missouri-Kansas City University Feb. 5 and Feb. 7.
Being on the road and performing in cold winds and conditions didn't impact the Ospreys' performance, as they won with scores of 7-0 against Missouri-Kansas City and 6-1 against in-state foe, Florida A&M. With a 3-0 record, the team's hopes are to finish in the top-three rankings this season.
"The girls have a lot of intensity and are very hard workers," head coach Rodrigo Pueblo said. "You can tell they enjoy what they are doing."
Being at the top singles spot, freshman Aline Berkenbrock was in the zone early and smashed a 6-0 set opening victory against the Missouri- Kansas City Kangaroos.
Working this year with a brand new team, the Ospreys have four new girls on a six-member squad and are still confident, Pueblo said.
"We are putting a lot of emphasis on the team's doubles," Pueblo said. "We're not really confident yet in that area and need to practice on it."
In its match against FAMU, UNF captured the doubles points for the advantage before feeling the pressure later in the match.
FAMU eventually forced a win against UNF at the No. 1 doubles spot when Rattler Rachael Pyle ducked past Berkenbrock and junior Raquel Castro in a close tiebreaker of 10-5.
The Rattlers' single point of the match camein the top spot of the singles play. Castro was a No. 2 singles winner against the Rattlers and placed UNF in individual action.
The Ospreys also posted straight-set wins in the rest of singles play against Missouri-Kansas. The top scores in the play were Van Lierop's 6-1, 6-2 win and a 6-3, 6-4 win by senior Ina Durcakova placing in the No. 3 and 4 positions.
UNF will try to defend its record when it hosts Troy Feb. 14 at the UNF Tennis Complex.
E-mail Heather Furey at [email protected]