Editorial: Moon indeed perfect fit for UNF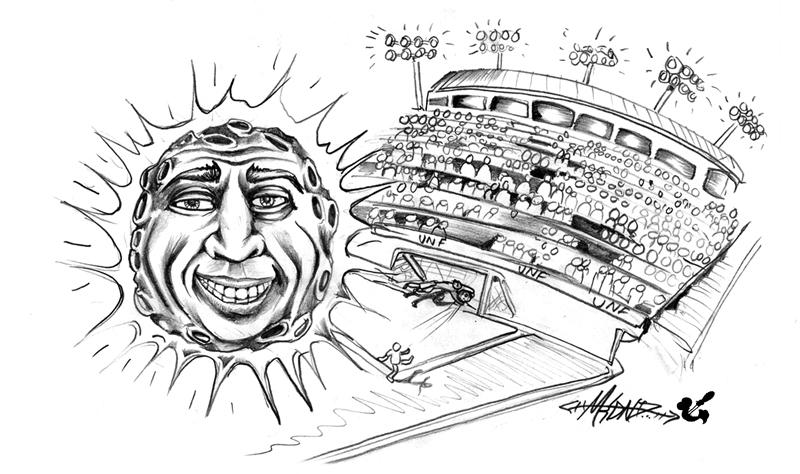 Finally, after years of debate and elusive questioning in the air about whether UNF will create a football team, one man has entered the university with a definite answer to that question: no.
Former University of Alabama Birmingham Athletic Director Lee Moon accepted the vacant position at UNF Feb. 5 in front of a large crowd of UNF coaches, student-athletes, administration, faculty and staff.
At the press conference, President John Delaney said he thought the university found the perfect fit, and it seems as though that is proving to be absolutely correct.
Moon, who secured the largest donation for the University of Wyoming athletic program – $4.3 million – during his time there, has a highly comprehensive resume including stints at Kansas State University and Marshall University, where he worked with current University of Florida basketball head coach Billy Donovan. And he has high expectations for the athletic program at UNF.
"I want us to be at the top of the Atlantic Sun Conference," Moon said at the press conference.
"I want us to compete for championships, and I want people to walk around this region of the country and Jacksonville and talk about UNF Athletics."
And how does he plan to achieve that? By focusing on improving the current Osprey teams and
not daydreaming of something bigger.
Sure, UNF is growing. Construction on numerous projects is set to be completed by the beginning of fall 2009, including the Student Union and Osprey Fountains. But just because the campus is adjusting toward a more traditional university – like that of UF or Florida State University – doesn't mean the athletic department is at the same level.
The men's basketball team ended its season last year with a 3-26 record and is on a similar track this season with a current record of 5-18. The volleyball team ended its 2007 season with a 4-26 record, improving during its past season with a record of 13-19.
But the 15 NCAA teams at UNF still have a long way to go before reaching the championship level Moon is expecting.
The university must place all of its effort and attention on succeeding with the teams it already has before moving onto the grand idea of a football team.
Swift attention must be placed on the current staff, players and plays that are currently not working together to their highest potential.
Moon is well aware of this need and made it known when he took the position. And while some will complain they want a football team, focusing on making others proud of the many talented athletes who already represent the Ospreys is a much wiser decision.
Welcome to UNF, Moon.