UNF finishes 11th at annual home invitational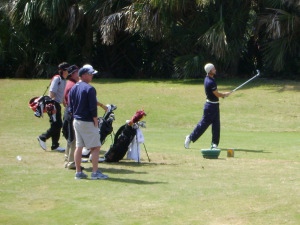 In the first day of the John Hayt Collegiate Golf Invitational, UNF tied for 11th, in the second day, the Ospreys tied for ninth, and during the last stretch, the Ospreys fell again to the 11th spot Feb 24.
Louisiana State University took first this year, its first year in a first-place title position.
The first day of the invitational, the wind blew bitter cold during the first round of golf. Arizona State University left no doubt about its second-place performance in its first appearance at the tournament, and UNF shot a 305 with junior J.C. Horne leading the way.
Horne started his day with a pair of birdies on the front nine before hitting 3-over-par on the back nine to shoot 74.
Senior Jeff Dennis and sophomore Chris Kennedy also led the Ospreys, each  shooting 76.
"It was tough; the greens were firm and fast, and the wind was blowing everything around," Horne said. "One little mistake and things can escalate fast on you out there."
In the second day of the tournament, UNF tied for ninth with two-time defending champion University of Alabama, after shooting 307 for the day.
Junior Jordan Gibbs posted 76 on a less windy day when the temperatures were in the low 40s. Gibbs punched in a few birdies on holes 14 and 16, but hit a bogey on the 15th hole.
"I got off to a good start but had a bad stretch of holes that ruined my day," Gibbs said in a press release.
Dennis was a little more fluctuating than Gibbs, recording  four birdies for the day that were erased, thanks to three bogeys.
He did, however, finish tying for the 22nd spot with two of his final four holes including birdies.
Although the first two days of the tournament were rough for UNF freshman Joe Byun, he shot a 74 on the last day to lead the Ospreys. He shot a birdie on each nine to go along with a double-bogey on the front.
The Sawgrass Country Club proved to be a difficult course allowing 32 players to shoot an 80 or higher on the second day.
"Nobody played their best this week," UNF head coach Scott Schroeder said in a press release. "We will go back and work hard. That's all you can do."
The John Hayt Collegiate Golf Invitational is one of the premiere events in golf and is packed with schools from major conferences including LSU and Furman University.
Formerly known as the Queens Harbor Intercollegiate, the Hayt tournament has grown rapidly throughout the past years.
"Honoring Mr. Hayt by renaming the tournament after him is a tribute to what he has done in the past and will undoubtedly continue to do in the future for our program," Schroeder said in a press release.
UNF will take to the course at the Schenkel EZGO Invitational March 20-22.
E-mail Heather Furey at [email protected]