Security adviser to speak about war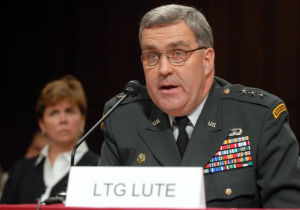 Each semester, UNF invites several people from the community and around the nation to speak in the Distinguished Voices lecture series.
There are four speakers lined up for the Spring 2009 semester, including Lt. Gen. Douglas Lute.
For those interested in attending, here are some quick facts.
Who
Lt. Gen. Douglas Lute, who was nominated in May 2007 by former President George W. Bush to serve
as the deputy national security adviser for Iraq and Afghanistan. His position oversaw the war in both countries.
What
Lute will be speaking on "The outlook for success in Iraq and Afghanistan," which is based on his past two years as a leader in both wars.
When
7:30 p.m., March 3
Where
University Center
Experience
In the early 1990s, Lute served with the U.S. Army in Operation Desert Storm, followed by a position with the Chief of Staff of the U.S. Army. He continued his career in the Army as commander of the 1st Squadron, 7th Calvary at Fort Hood, Texas, and in 2004, Lute became the Director of Operations at U.S. Central Command.
It was then that Lute began overseeing combat operations in both Iraq and Afghanistan, as well as in other locations: the Middle East, Central Asia and the Horn of Africa.
He was appointed to the rank of major general in 2004 and Lieutenant General in 2006.
Compiled by Holli Welch.