Kirkland leads in scores, earns A-Sun All-Freshman honor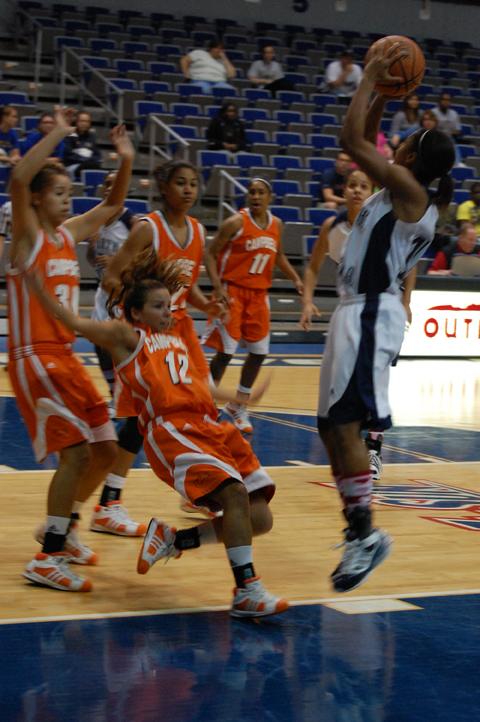 The UNF women's basketball team's leading scorer, freshman guard Brittany Kirkland, was an unanimous selection to the Atlantic Sun Conference All-Freshman team after ranking second among freshmen in the conference in scoring, the conference office announced March 3.
After entering the Ospreys starting lineup in November during UNF's first win of the season at home, defeating Wofford 70-61, Kirkland scored 15 points to lead the Ospreys. She had 21 starts this season, including the final 12 games, and played in 29 games.
"Coming in and playing the point guard position as a freshman is very difficult," UNF head coach Mary Tappmeyer said in a press release. "Brittany is a tremendous competitor, and this a great accomplishment for her."
Kirkland's 15.2 points per game over the final 12 games helped UNF to a 6-6 record in that time. Her highlights include a career-high 24 points at Stetson and double digits 17 times in the 2008-09 season. Kirkland recorded a .514 3-point percentage and hit 48.2 percent of her field goal attempts.
"Brittany has a scorer's mentality and gets excited when she creates scoring opportunities for her teammates," Tappmeyer said in a press release. "The challenge for her this off-season will be continuing to develop her game on the defensive end of the floor."
Kirkland led the team in scoring with 321 points, averaged 11.1 points per game and 2.9 rebounds per game, while recording a team-high 31 minutes per game. Kirkland was second on the team in steals with 43 and had a .402 shooting percentage for the year, including a .388 mark from beyond the arc.
Kirkland scored 21.2 percent of her team's points this season. She was 17th in the conference in scoring and tied for 13th in assists in the conference. Kirkland led her team in six different categories including points, scoring average, field goals, 3-points, minutes and turnovers.
This is third consecutive year that the UNF has placed a player on the A-Sun All-Freshman team. Sophomore point guard JulieMay Syquio received the honor for the 2007-2008 season, while former point guard Shandea Moore earned the honor in 2006-2007.
Tappmeyer said having a freshman awarded postseason honors three years in a row reflects the type of players she recruits because the goal is to build a tradition. She wants players who will help to contribute immediately because she believes this will ease the transition to NCAA Division Î.
Kirkland was the only member of the UNF women's basketball team to be selected for any A-Sun postseason awards this year and was one of two unanimous selections.
The other selection was Kendra Wallace of USC Upstate, another freshman guard on the A-Sun All-Freshman team.
UNF finished the season with an 8-21 record. Starting with the 2009-10 season, UNF will compete as a full-fledged NCAA Division I program making it eligible for postseason play.
E-mail Matt Head at [email protected]