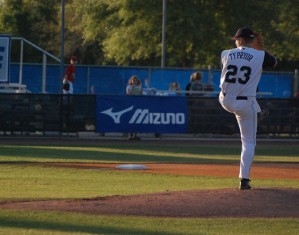 The UNF baseball team defeated the then sixth-ranked team, Florida State University, 5-4 March 4 for its first win against FSU in UNF history.
The Seminoles program (6-3) is also the highest ranked opponent altogether UNF has defeated in the school's Division I baseball history.
"We're on the right track," UNF's baseball head coach Dusty Rhodes said. "We [our team] did exactly what I expected them to do."
This is the first time in the five encounters that UNF has come out victorious, with FSU outscoring UNF 46-13 in the series. The two teams will meet twice more within the 2009 season.
"You really have to tip your cap to the University of North Florida," FSU's head coach Mike Martin said in a press release. "They deserved to win. There is really nothing you can say. There are no excuses."
During the week of its game against UNF, FSU also lost two consecutive games to Auburn and JU. This is only the fifth time since 2005 that FSU succumbed to three or more losses in a row.
UNF won the game when freshman shortstop Steve Hillan broke the 4-4 tie in the top of the eighth inning by converting the first pitch of his collegiate career into a home run.
Senior pitcher Ty Pryor (2-1) picked up his second win of the season for UNF, after his last pitching effort resulted in a loss against Ohio State University Feb. 28. Pryor came in as a relief pitcher in the bottom of the seventh inning with two outs. He then took the game into his own hands, striking out four batters, allowing two walks and not giving up any hits.
FSU's starting pitcher, Austin Wood, went two innings and gave up three hits, four earned runs, three walks and one strikeout. And UNF's starting pitcher, junior Tucker Pryor, went three innings and gave up one hit, an earned run and a walk, while striking out four batters.
With the defeat of the Seminoles, the Ospreys have now beaten every Florida team that is in a Division I conference at least once. The game was definitely a huge hurdle for UNF to overcome, but UNF came out on top just as Rhodes expects from his men, he said.
"We're always out there to win. We want to play the teams that go to the World Series," Rhodes said. "We have to learn from every game."
E-mail Robert Moccio at [email protected].