Festival harvests hope, mud, crazy good times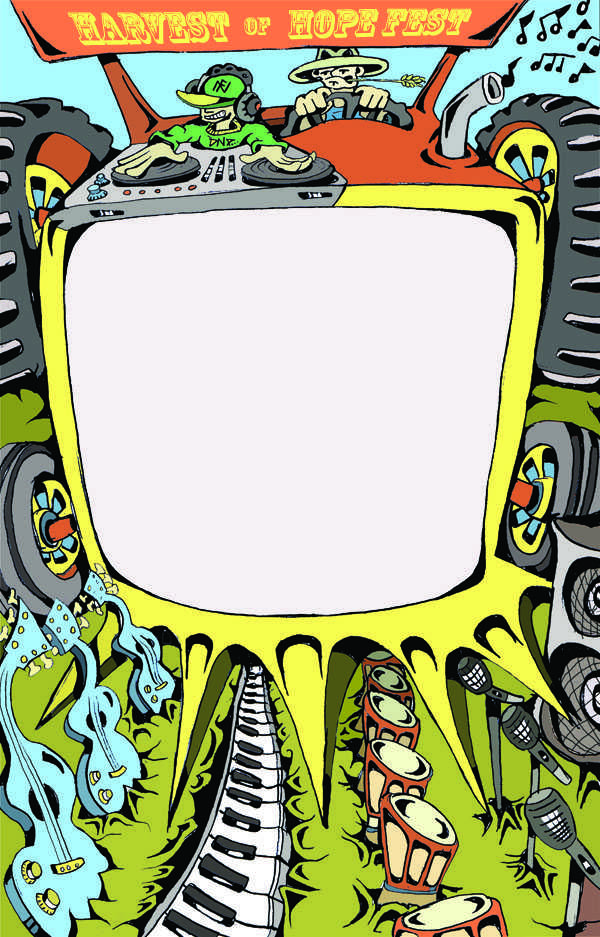 A crisp blue sky March 6-8 at St. John's County Fairgrounds played backdrop for the Harvest of Hope Foundation Music and Art Festival.
The three-day festival was shimmied into existence thanks to Harvest of Hope, a non-profit organization helping migrant workers across the nation with financial and education services.
The fairgrounds had a spread of four stages (two big and two ones); a good handful of vendors selling grilled cheese sandwiches, jimbay drums and tattoos; activist groups' tables; and of course, several canopies crowded with kegs.
King Khan and his Shrines got the groove rolling Friday night, just after the sun got cozy past the horizon.  Ringleader and total madman Dan Wojanar grabbed the nights' reigns with his self-described "psychedelic funk gospel."
Wojanar was joined by a three-piece brass section, two percussionists, his own sequined cheerleader and a dozen people on stage, collectively shaking the crowd in an amicable fashion.
Left aghast from Wojanar's remarkable presence, UNF junior math major Richard Barfield said, "He channeled the soul of James Brown."
DJ and mash-up master Greg Gillis, also known as Girl Talk, was arguably the largest draw for the first night's musical craftsmanship.
Saturday unfolded as people seemed to feel the seeping regret of profuse decadence. Bodies were draped across the dust and battered beach towels, flat beer or canister-crammed Cognac in hand.
Atlanta experimental bunch Deerhunter subtlly revived the masses when it opened with fan favorite "Hazel St." The bright sunlight detailed in the group's jovial chords was a mirror image of the day.
Deerhunter's hushed sound seemed like it would gracefully precede a performance from some sort of indie giant like Big Star, had Alex Chilton not gone nuts. Audience participants couldn't help but rhythmically spasm one limb at a time (the right leg appeared to be a favorite).
John Vanderslice kept the cozy coming over on Stage 2, enchanting his fairly modest crowd while the moon began to loom overhead.
The Mountain Goats, also known as Jeff Darnielle, had a surprisingly large stage presence in the festival environment. Vanderslice even made a guest appearance on a few ditties while Bics and cigarettes shot into the air in that slow jam kind of way.
Darnielle infected the crowd with crazy dance fever when he played "No Children," a song embodying his serious knack for transforming the most dismal lyrics into something downright energizing. But the  most impressive moment had to be when Darnielle coaxed a crowd of cutesy-cute hippie kids to merrily chant "hail Satan!" during the more fervent section of his song "The Best Ever Death Metal Band in Denton."
Gainesville kids Against Me! brought the evening to a close. Even though half in attendance were plopped down on the dying St. Augustine turf, signs of life came when Tom Gabel and his band of cronies surged through their discography's highlights.
Sunday's theme revealed itself as concrete hip-hop and performances flat on the earthy ground.
Monotonix started the trend with the latter and grabbed the audience in a figurative headlock with their bombastic stylings. Mediocre tunes were enhanced by the lead singer's stage antics which included pole-dancing on the stage's scaffolding, groping random festival-goers, and holding up the mic to a more non-traditional orifice.
Murs kicked off the hip-hop infusion of the day, bursting onto the black planks of stage rapping about his majestic dreadlocks. Local boys Whole Wheat Bread hopped onstage to mix things up, adding a surreal element of ska to Murs' refreshing rapping.
Inspectah Deck, accompanied by fellow Wu Tang associate Masta Killa, then slipped off Stage 2 to the lawn level to sweat it out with the masses. He spat out some solo, Wu Tang and O.D.B. stuff and then called it quits, but not after sharing a few "cigars" with his new muddy buddies.
KRS-One, capped off the sanity of Sunday. In between spouting his soul-touching socially-alert rhymes, he attempted to ignite a crowd-wide chorus of "technology is a farce," but perhaps the slogan sported one too many syllables to prove successful.
Bouncing Souls guitarist Pete Steinkopf, summed up the three-day fest rather poetically.
"This weekend – so many bands, and it's a cool cause. It seems like a great festival, I see lots of people, lots of dirt, lots of people drinking beer, lots of drunks in the mud."  What more could one really request?
E-mail Beca Grimm at [email protected]