Editorial: Basketball team must get ready for DI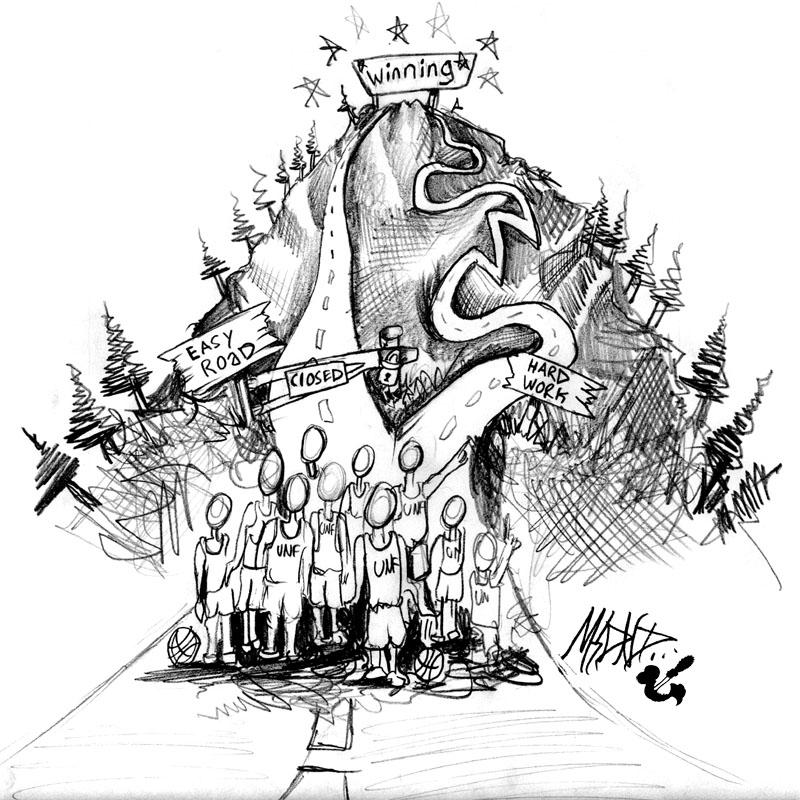 After finishing the 2008-2009 season with an 8-22 record, the UNF men's basketball team has now finished
its sixth consecutive season with a losing record.
And as UNF began to prepare for its first full-fledged Division I season, other teams in the Atlantic-Sun Conference were preparing for a shot in the NCAA March Madness tournament.
But don't expect UNF to be competing any time soon, even though it completes its transition to Division I this year. It looks like UNF will be preparing for quite a while before its men's basketball team will make it into the Madness. Even the new athletic director can see it.
Though UNF Athletic Director Lee Moon doesn't think he's had enough time at UNF to give a proper evaluation of the team's performance, he did say that one thing was clear: They need to step it up.
"Their record was not acceptable, and it needs to improve," Moon said.  "It doesn't matter if it's our best
season in Division I play; that record is something no one should be happy about."
But fans, players and leaders in the Athletic Department need to make strides to soar in the coming seasons instead of dwelling on the past.
Off the court, two of the major areas UNF needs to improve in are fundraising and recruiting. And this is nothing new, as these areas were discussed in Moon's inaugural press conference.
During the past several years, it has been hard to recruit Division I level players to UNF because until 2010, players aren't able to receive any of the benefits of being a Division I player. It's no surprise that the best players want to go to a place where they can compete for conference and national championships, draw attention from scouts and get a good education.
But in order for UNF to make a name for itself in Division I, it can't sit back on that excuse – especially not right before 2010.
A major part of drawing in big-name players is having the funds to sponsor recruiting. The facilities and the program as a whole are attractive, but UNF lacks a sufficient budget to support the level of recruiting it needs to compete in the future.
This leads the team to resort to other ways such as playing guarantee games – games where they are paid
to play outmatched against bigger-named opponents. UNF shouldn't have to sell out to get better players.
And though important, the most crucial thing to improve is neither fundraising nor recruiting, Moon said. Rather it's developing a level of consistency.
"First and foremost we have to bring everybody together," Moon said. "We've got to get our coaches and players feeling good about me as their leader, and we've got to get our boosters feeling that I'm the guy they're willing to put their paycheck on.  If I can get all that accomplished, then we're going to get going, and we're going to get going in a hurry."
Due to a heavily rotated line-up of players, as well as a constant onslaught of injuries, the players who led UNF in stats and on the court were constantly changing throughout the past season.
In fact, 10 players, who each averaged close to or more than 15 minutes a game, received the majority of playing time. This inconsistency causes a lack of cohesiveness between the starters. But it is something that can easily be worked on. And now is the time to begin the work – when UNF will enter in Division I play next season.
What this means is there needs to be a change.
There has to be an outpouring of effort by everyone involved with UNF basketball and athletics in order for it to make a smoother transition to Division I.