Jacksonville a step behind on food truck bandwagon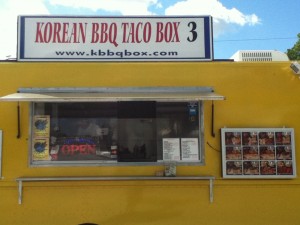 Growing up in Wewahitchka, Fla., with one red light, plenty of dirt roads and people who commonly rode tractors to the E-Z Serve gas station, I think it's safe to say there wasn't much to do to pass the time.
Everyone knew everyone, and everyone knew everything that happened around town, at all times.
So when a barbecue food truck parked in a vacant lot, it went mainstream—well, small town mainstream.
With smoke billowing out of the chimney vent, the aroma of smoked meats filled the air for passers by resisting the grumbling urge of their bellies.
This is something you never forget, a smell you never un-smell, and I mourn for all you Jacksonville natives who have never had the pleasures of a big greasy food truck delicacy.
Jacksonville laws prohibit food truck vendors from parking on streets or public property to conduct business. Recently, there was a rally held downtown opposing this law.
On March 31 River City Brewery hosted an event in their parking lot called Jax Truckies. Tickets sold out in only four days, according to the Jacksonville Business Journal.
Another event was held on a rainy June 9 in the Burrito Gallery parking lot downtown. This event flocked in a crowd of more than 2,000 people, according to the Jacksonville Business Journal. Trucks ran out of food just 2 hours after the event started.
Food truck vendors are actively trying to show the city of Jacksonville the pleasures of food trucks. The demand seems to be out there, so the puzzlement is over why Jacksonville won't change its laws.
In hard economic times, food trucks could be the answer for entrepreneurs with limited funds.
Start-up costs are relatively low, compared to a full blown-out restaurant, and they have the luxury of having a mobile business.
But most importantly, the demand is there.
Big cities such as Portland, Seattle, and Washington, D.C., have already hopped on the food truck bandwagon.
If Jacksonville doesn't get with the times, they may be left behind – not to mention – rob potential consumers of priceless food truck memories.