FSCJ goes smoke free, UNF hopes to follow suit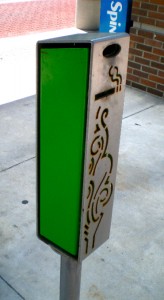 Florida State College at Jacksonville will be a tobacco and smoke free campus, as of March 1, 2013.
This is part of a rule approved by the Board of Trustees at a July 3 meeting.
FSCJ's policy includes a tobacco and smoke free environment on campus and during school-sponsored off-campus events. Compliance with the new policy is expected from all students, staff, faculty and visitors.
Health Promotions Director Shelly Purser said she does not know if local campus transitions will have any affect on UNF, but she hopes they will have a positive influence.
A tobacco attitude survey distributed by UNF Health and Promotions during the fall 2011 semester showed nearly ¾ of the student body and staff were non-smokers. The results of the survey also showed nearly ¾ of students and staff support a tobacco and smoke free campus.
"A key is really getting a lot of student support, get student government behind it, and really move in that direction," Purser said.
Purser is confident in UNF's ability to convert to a tobacco and smoke free university after attending a tobacco-free campus seminar Feb. 21, sponsored by the Duval County Health Department Tobacco Prevention Program and the Tobacco-Free Jacksonville Coalition.  The seminar informed Purser that hundreds of universities across the state are now smoke free, while many others are planning to adopt similar policies.
"It's on everybody's radar, which is good," Purser said.
UNF does not have a definitive effective date for a tobacco and smoke free environment, but it is working to put together a timeline.
Purser said the Health and Promotions Department has resources to work the campus through the transition and the main goal right now is to educate staff and students.
"We want to be successful, you can't just spring it on people," Purser said.