Three students aim to help others navigate campus with map application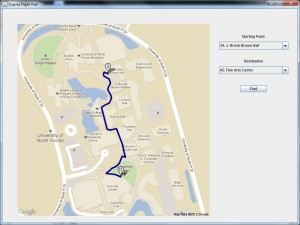 By personally plotting hundreds of points onto a map, three UNF computer science students are working on Osprey Flight Path, an application that helps students navigate campus.
Erick Douglas, Nihar Goswami and Mark Mazour created the application using A* Search algorithm and Google My Maps to find the best path and keep a list of alternative paths. The application was the students' senior project for Dr. Ching-Hua Chuan's Artificial Intelligence course, and they were inspired to come up with something that would benefit the world.
Goswami said he, Douglas and Mazour wanted to be able to help students and leave a legacy behind at UNF with something unique.
By using the A*Search algorithm, Osprey Flight Path can find the simplest and quickest path to get around campus from building to building. A*Search is a path finder that keeps a list of alternative routes by calculating the total distance and the straight-line distance.
The A* Search also keeps cost in mind when travelling. When a destination is inputted, the application will search for the nearest point to determine the shortest path within a few seconds.
UNF's campus is 1,381 acres with buildings that vary in number and name, and not all students are familiar with the changes with expanding construction. Google Maps and MapQuest don't have the specifications of UNF's campus, so Douglas, Goswami and Mazour had to create their own map.
In order to get an accurate map of the campus, the three used a master plan map of UNF. Goswami said they painstakingly plotted approximately 637 points on the map over a period of two weeks to account for all the possible routes, turns and intersections.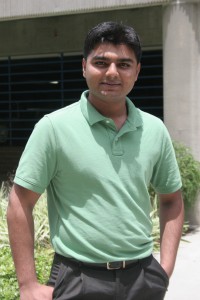 Freshmen coming onto campus can use Osprey Flight Path to find buildings and better familiarize themselves with campus. Upperclassmen can benefit as well, if they need to get from one building to another quickly, Mazour said.
The project won first place in the 2011 School of Computing Student Symposium at UNF. Goswami said they received very positive feedback and people wondered why this was not thought of before.
Osprey Flight Path was also one of the 20 projects chosen out of the 200 applicants to the 2nd annual Florida Undergraduate Research Conference in March. The students travelled to Stetson University to present their project and students from UCF and UF found the application very useful.
The night before the conference, there was an error with the project when it was mapping out longer routes from building to building. Mazour said they were luckily able to stumble upon a solution for the bug. For Goswami, the main difficulty was drawing out the map.
Mazour said he hopes that all students can benefit from this application and visitors from off-campus will benefit, too.
The three would like the application to take on-campus housing, parking lots and the shuttle into account as well, said Mazour. In the future they would like to make Osprey Flight Path available as a mobile application.
The next step is to put Osprey Flight Path online on a server available to everyone.
Osprey Flight Path is expected to launch by the end of the fall on a java website that will be accessible universally through computers or phones. There is currently a prototype available but it is not available online yet.