NCAA officials, general volunteers keep the meet in momentum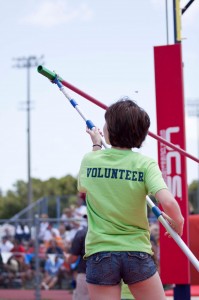 As UNF hosts the 2012 Division 1 Outdoor Track and Field East Preliminary Championship May 24-26, it along with the NCAA heavily rely on the work of volunteers to ensure that the three-day meet runs smoothly.
Jesse Jackson, an NCAA official, said when the top athletes in the country are competing in one the largest meets of the year, it requires the most qualified officials and volunteers available.
Jackson said experience is what sets the great officials apart, and all the officials working this meet have officiated meets of similar size in the past. Jackson is a track and field trainer who has helped hundreds of track athletes earn college scholarships, with seven who have competed on Olympic teams as of 2008.
However, it appears the NCAA has to rely on the quality of the volunteers, rather than quantity.
Gordon Bocock, the meet's head umpire and an umpire for the U.S. Olympic Team Trials, said he has never been to a track meet where there have been enough volunteers.
While this is a concerning thought for those trying to operate the event, Bocock and other NCAA officials are confident there won't be any organizational issues.
The competing athletes support this statement.
Claire Dishong, a junior pole vaulting for Cornell University, said the meet has been running smoothly compared to some of the other meets she has competed in her career.
She said unique ideas in organization, such as an alphabetical overnight storage room for her personal pole vault, have made the experience more convenient and enjoyable for her and the other athletes.
Dishong said UNF is the first place to provide that kind of storage. Bocock said volunteers are responsible for handling these types of duties.
Bocock said the volunteer officials' professionalism plays one of the biggest parts in track meet organization. He said NCAA track officials are usually people who have been involved in track in the past and want to give back, making them both passionate and qualified.
But not all volunteers come with long histories of NCAA track involvement. General volunteers include many different people who enjoy the sport and want to be involved in any way they can.
Mark VanAlstyne, director of UNF track and field and one of the men responsible for bringing this event to UNF, said the school — as well as the NCAA — reached out to various groups in search of volunteers, such as the UNF Volunteer Center and members of the track and field teams.
VanAlstyne said there are 144 officials and more than 175 volunteers working the meet, which has close to 2,000 participants. The volunteers perform a variety of tasks, from moving equipment to assisting to the officials in operating meet stages.
The volunteers will continue to perform their duties until the meet's end Saturday, May 26.