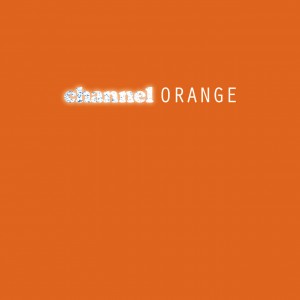 Frank Ocean's debut LP, channel ORANGE, is an album of undirected life and young love. These concepts have been seen before, but it's the angle in which Ocean sees them that makes them fresh. I'd like to not make this review about Ocean's recent revelation as a bisexual, but too many tracks deal with the subject. The album and the person who created it are, in this case, inseparable. Days before Ocean released the divulging letter on his tumblr he posted, "ORANGE REMINDS ME OF THE SUMMER I FIRST FELL IN LOVE. AWWW…" This first love he reveals to be a man, although the feelings went unrequited. Tracks like "Bad Religion" and "Forrest Gump" take a closer examination of the hardships and struggle that come with his confusion over the unreciprocated feelings.
Besides Ocean's songwriting skills, his singing talents are showcased on songs like "Thinking Bout You" and "Pilot Jones." He is able to seamlessly transition from his typically crooning vocals to falsetto and back. The falsetto featured on "Pilot Jones" shows disparity in the deep, sputtering background.
The smoothest song on the album has to be "Sweet Life." Leading with a soft Rhodes and pushed along by a jumpy bass line, this song epitomizes the R&B aesthetic. "Super Rich Kids," two songs later, continues the theme, as both deal with being young, wealthy, and having too much time to kill. Despite these advantages (or in Ocean's case, set backs), he cries out for that which is real and meaningful, including love. "Super Rich Kids" contrasts "Sweet Life's" silky setting with staccato hits that leaves a lot of space that Ocean is able to weave together with his glassy accompaniment.
So far we've heard elements typical of an R&B record. Channel ORANGE is, at its core, an R&B album, but Ocean's willingness to experiment with the stagnant genre makes this record great. Nowhere on the album is this willingness to explore more evident than on the nearly 10-minute long epic, "Pyramids." It's in this track that the album hits a peak, not because it has been building, but the dissimilarity with the rest of the album is too great to ignore. Ocean still flows over the song with liquid ease, but it is the foundation that makes "Pyramids" a stand out. It can be best described as Progressive R&B, as it dismantles the formula for the genre and creates a new way to exist within it. The song has multiple movements, incorporating Electro, Hip-Hop, and the necessary smooth R&B feel, all while telling a story of forbidden desires.
The end of the album focuses on his aforementioned love that was spurned. The album's most heartfelt track, "Bad Religion," addresses his distress, where "Pink Matter" confronts the transition between his sexuality. Andre 3000 shows up here to mark a reinvigorating verse, where he meanders along with the funky bass.
Altogether, channel ORANGE, is a fantastic listen that pushes the boundaries on both how an R&B album can sound and the complicated issues it conveys. But in the face of the heteronormative Hip-Hop community, it feels as though Ocean's thoughts on the situation are complicated no longer. "I'm happy when I wake up in the morning/ and not with this freakin' boulder on my chest."
It seems as though we'll be tuned into channel ORANGE for a while.