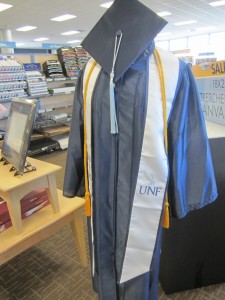 EDIT (July 24, 2012 @ 5:35 p.m.): Due to a reporter's error, the final day of allotted ticket distribution is July 28, not July 27.
Seniors can start picking up their gowns, tassels, tickets and other graduation necessities starting today at the UNF Bookstore.
Each student is allotted 10 tickets, as there is limited seating in the Arena. Any tickets remaining after Saturday will be available for students as extras.
"After doing school for sixteen years, finally being able to walk for the last time feels pretty amazing," said exercise science senior Glenn Oberlander. 

Heather Czigan, a bookstore employee and English senior, said she is also excited about the start of something new after graduation, and reminded students not to forget to get their important grad-gear.
If students are having someone else pick up their grad-gear, they'll need to write a note giving them permission. Students should attach any form of ID to the note.
The last day UNF will hand out tickets is Saturday, July 28.*