Garrard advocates disease awareness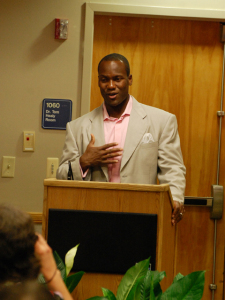 Jacksonville Jaguars quarterback David Garrard and the Crohn's and Colitis Foundation met March 26 at the University Center to advocate for an event special to both of them.
Jacksonville's inaugural Take Steps Walk is scheduled for May 14 at Metropolitan Park. The walk is a 2-3 mile stroll to raise awareness and money to find a cure for Crohn's and Colitis, diseases that attack the digestive system.
Garrard is the event's honorary chairman and is leading the walk and challenging the community to join him in the fight against these diseases that affect hundreds of thousands of people.
"I believe the Lord has put me in this position to be an inspiration to the kids and show them they can still do anything they want to do," Garrard said. "They can be a singer, a pianist or even a professional football player if they have this disease."
Garrard came to UNF to tell his story and help the Crohn's and Colitis Foundation establish more teams and get people excited for the Take Steps Walk.
So far 80 have people signed up, which has surpassed the group's expectation of 50 because it is the first year of the event, Wahl said. Garrard's support and enthusiasm has made a big impact on the event's outcome and the people who have the disease, she said.
"Crohn's is hard enough on people who aren't really active," Wahl said. "But for somebody whose job is to be active, it's really difficult. It can really take a toll."
Crohn's disease affects 1.4 million American adults and children, and most victims develop it between the ages of 15-35. The illness can cause several severe complications, including colon cancer in patients with the life long disease, rectal bleeding, fever and weight loss.
Garrard was diagnosed with Crohn's in April 2004, but he started showing symptoms in early January 2004. At first, he thought it was a stomach virus, but after his athletic trainer recommended he see a doctor, Garrard found out otherwise.
"I thought they said I had chromes disease, and I didn't know if I was allergic to chrome or something," Garrard said. "I had to do my Googling and research to find out about it."
A lot of people, especially children, don't think they can be normal and do activities they would enjoy with other people their age because they're embarrassed by their symptoms, Garrard said. But kids with Crohn's and Colitis don't have to be afraid to dream big.
"It's really exciting to have someone who is so well known in the community and very well respected take up a cause like this," said Molly Wahl, development director for the North Florida chapter of the Crohn's and Colitis Foundation. "It's great because it's so personal to him and is something he wants to be involved in."
Garrard will be walking with his team at the Take Steps Walk for Crohn's and Colitis, he said. If you would like to form a team and walk to raise awareness for the Crohn's and Colitis Foundation, visit cctakesteps.org.
E-mail Heather Furey at [email protected]