Ospreys prepare for River City Rumble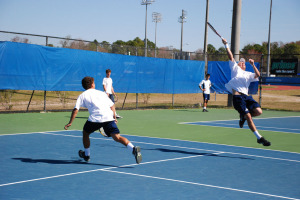 The UNF men's tennis team will play its final match of the season April 8 as it takes on cross-town rival Jacksonville University. The men have not faced the Dolphins yet this season and will play to earn the River City Rumble point for the Ospreys.  UNF currently has a 9-7 record overall this season and a 4-3 record in conference play.
WHAT
Jacksonville University will host the Ospreys' last match of the season.
"Playing JU is a great way to end our season," UNF men's tennis head coach Igal Buberman said. "The rivalry has been going on for a while even when we were a Divison II school."
The players are also excited about taking on JU for its season finale.
"I can't wait for the JU match," senior Federico Levi said. "It's going to be pretty intense."
WHEN
2 p.m., April 8
WHERE
Keith Watson Family Tennis Complex at JU.
LOOKING BACK
UNF beat JU in its last two matches. Last year, UNF dominated the match 6-1.
THIS SEASON
"All of the hard work the guys put forth in the fall and the early spring is paying off," Buberman said in a press release. "The team is fit and ready to finish on a good note."
The Ospreys are tied for fourth place in the Atlantic Sun with the Dolphins at 4-3 in the conference, with three teams ahead of them.
"I think this [season] was a great opportunity for the coaching staff to see who really wants to compete at this level and who will be contributing to our line up next season when we get to play our first post-season in four years," Buberman said.
Compiled by Josh Gore.