New UPS store opens on campus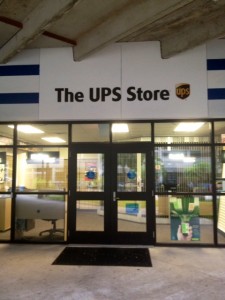 A full-service UPS store opened in Building 8, near Sbarro and Auxiliary services.
The new store offers printing services, individual mailboxes, a student storage program and a move in/move out program.
"Students can email a paper to be printed for class and we can have it ready for them, or they can bring it on a thumb drive, and we'll have it ready in a matter of minutes." said Trena Nesler, owner of the campus UPS store.
Some UNF students are pleased this service is now available.
"Sometimes the library is busy, so I like the option to send my paper before I leave for school and know I will have it in time for class," said criminal justice junior Ashley Burris.
Individual mailboxes are also available for rental by semester or yearly, and they can be accessed 24 hours a day, Nesler said.
Although there are many students at UNF who may take advantage of the mailboxes, Nesler is not worried about running out of availability.
The student storage program allows students to store various items at the UPS store, including televisions, refrigerators, various sized boxes, bicycles, motorcycles and desks. A list of accepted items and prices are available through the UPS store location or website.
UPS's move in/ move out program allows students to ship their belongings to UPS up to three weeks prior to checking into a residential hall or an off-campus apartment. The store will store the student's belongings until the agreed upon time to retrieve the items.
The move in/move out program is available anytime throughout the year, and a pick-up can be arranged if the student is unable to bring the packages to the location, Nesler said.
The UPS store also has an e-mail or text notification service available to keep students informed on receiving packages and discounts on copies.
Nesler said she hopes to make things easier for the students with all of the options available at the campus location.
The campus UPS store is open Monday through Thursday, 9 a.m. to 6:30 p.m. and Friday 9 a.m. to 4 p.m. More information about packaging, shipping, printing, notary service and passport photos can be found on the UPS website.