Student Wellness Complex opens to the UNF community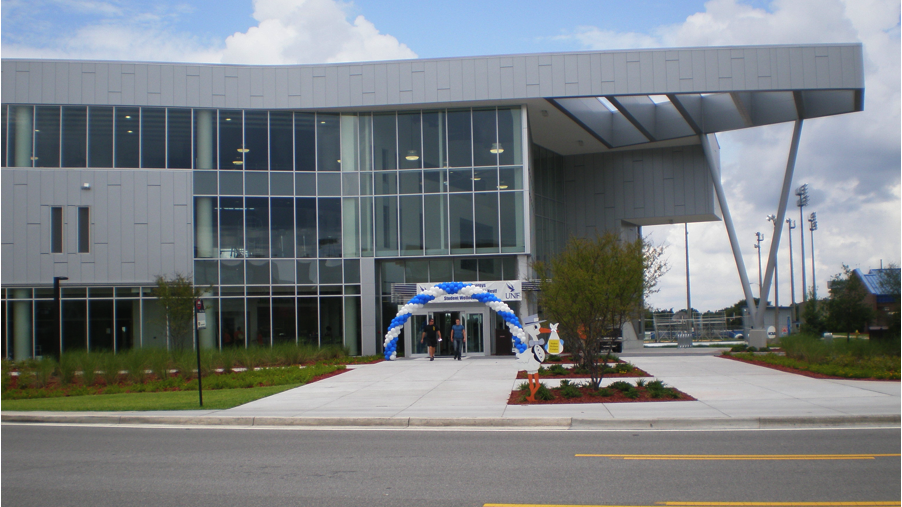 The UNF Student Wellness Complex had its soft opening August 17 and is now fully open to the UNF community.
The new three story complex combines the efforts of UNF's Athletic Department, Health Promotions and Campus Recreation.
"It brings all of the aspects of healthy living in one facility," said Alex Lewis, a Health Promotion registered dietitian.
Becky Purser, the Director of Campus Recreation, said having the departments in the same facility can help them work together to reach their goals for the students and staff.
"We all have the same mission – mind, body, spirit, " Purser said.
Member services staff Tyler Neimeyer and Amador Aravelo estimated hundreds of people at the opening, as they handed out maps and release-forms to each person.
The wellness center offers an indoor rock wall that allows up to six people to climb at a time, as well as an indoor track.
"The construction of it is the best of every scene; we're going to have a lot of regulars," said Blake Smith, an Osprey Cliff staff member.
Group fitness classes now have their own rooms, which allowed the schedule to expand to include a turbo-kick class and a contemporary yoga class, according to the campus recreation website.
The indoor track, which is located on the top level of the complex, also offers weight and stretch stations for all runners and walkers to use to cross train.
Individual lockers are offered to guests by the day, semester or year.
The grand opening of the wellness complex is October 17.