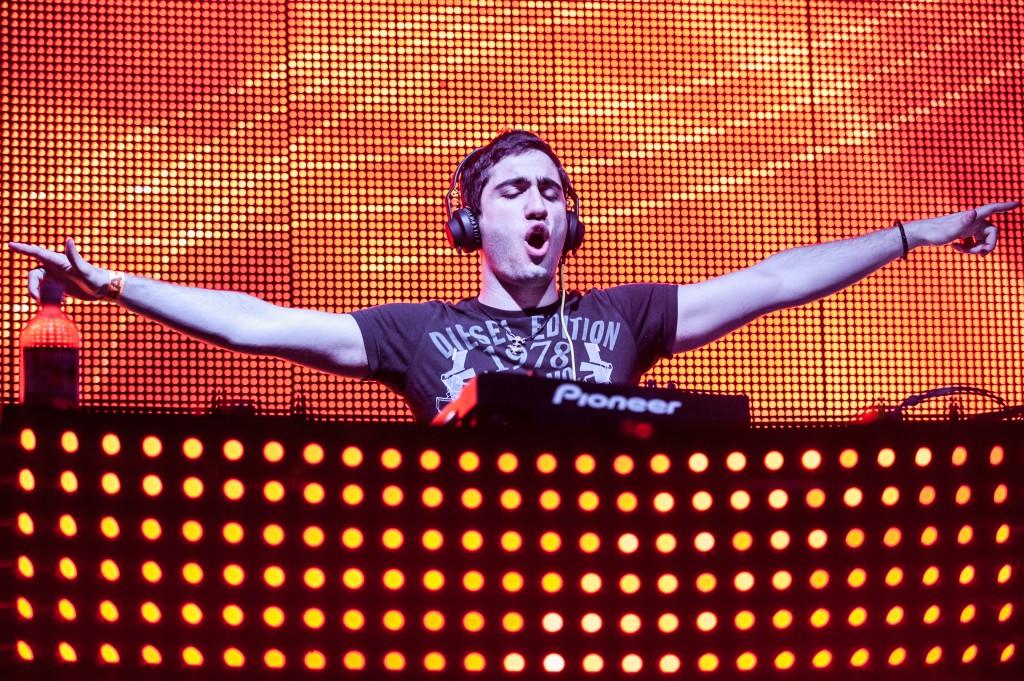 3LAU, also known as Washington University in St. Louis student Justin Blau, is a producer and DJ. He started his career just over a year ago and has since gained the notice of music blogs and performed alongside some big names in the dance music industry.
The Spinnaker caught up with Blau over the phone August 15 before his August 25 show at UNF.
Spinnaker: How did you get interested in becoming a DJ?
Justin Blau: I started on piano and guitar and I sing and then I went to Sweden with my best friend from college for about ten days. Before that I hadn't listened to any dance music whatsoever. That introduced me to dance music. I got back to the U.S. and I wanted to be a DJ. I picked up all the equipment, and that's kind of how it all started.
S: So what did you do from there?
JB: I started basically just DJing around my school. Playing, you know, small frat parties, small basement parties, whatever. And as I was doing that I was making mixes and I would send them to my friends. My friends, I guess, really liked them and shared them around to other colleges, and I kind of got really big just from people sending music to other people really organically and that's kind of how things started to pick up and I started doing bigger shows.
S: What is it about dance music and DJing that really drew you to it?
JB: I could give an hour long conversation on why I love dance music. I think the main reasons are, you know, it brings people together, everyone's dancing. It's not like you're listening privately on your headphones to dance music. Most of the time you're listening to dance music it's either at the gym or in the club, so it kind of brings people together in general. I also love the science behind dance music. You know, a lot of other music is you play guitar, you play piano, you sing and then you send all that stuff off to someone else to make it sound perfect, whereas dance music you're creating all the sounds yourself. It's very start to finish. Very scientific. And it's almost like you're an alchemist sitting in the studio figuring out what sounds sound good together. It's like experimenting and that's what I love about making dance music is you can create all these different combinations of things.
S: How do you go about mixing your songs?
JB: So when I'm making mash-ups there's a lot of scientific things that I go through. Anyone can just put two things together, but it's one thing to put multiple things together and have it sound very clear and perfect. That's where a lot of the science comes in. There's a lot of techniques involved. And then when I'm making my own music it's always working with the synthesizers, working with the subsamples, compressing them, equalizing them, getting them to fit with all the other sounds perfectly. It's like a really long process. It's a lot of time in the studio.
S: How much time in general does it take you to do one song?
JB: Oh wow. It varies, you know. I was up in Montreal working on what I think is a huge hit with two friends of mine up there. I think it's the best thing I've ever done. And that's an original track, an all original track, and we literally sat in the studio for three days. We didn't leave. We basically probably spent 36 hours on the track and it's not even 100 percent done yet. We still have to get it mastered and what not. But sometimes you can also create an idea like a month before it actually gets fleshed out. It really completely varies, but never shorter than a day, I'll tell you that much.
S: How would you describe your sound?
JB: It's more progressive than it is electro. And, you know, I love melodies. I love big poppy vocals that don't sound too poppy or cheesy.
S: Do you have a genre or type of music that's your favorite to use in remixing?
JB: I do love progressive house music. I like female airy vocals and big chords. That's the stuff that I'm just generally drawn to.
S: Who are some of your musical influences?
JB: It changes all the time, but right now I think one of my biggest influences is Matisse & Sadko. They're two Russian producers. Not necessarily very well known, but I just love their style. It's really big, you know, very epic sounding house music, very uplifting and most of their music is based on chords, which is kind of the way I do it as opposed to single notes.
S: You started out producing, so do you prefer producing or DJing?
JB: I mean DJing is just when you get to play all the stuff that you've worked on in the studio out in crowds, so I mean it's the most fun. They're so separate. I don't prefer one or the other. It's all part of the same picture to me I think. The point of producing is being able to play it while you're DJing.
S: What's the best event that you've DJed? Is there one that stands out?
JB: There's two, I think. One was in Orlando I opened up for Alesso in front of seven thousand people and everyone was just going insane. It was an unbelievable experience having a crowd so into the music as much as they were. And then after that I think the next best show was Camp Bisco Music Festival up in New York. I was playing right before Dada Life and the crowd was also just equally as crazy about what was going on.
S: So I'm guessing you like dancing, too?
JB: Um, I don't really like being in the crowd, I'll be honest with you. I prefer being on stage and behind the stage when other people are DJing. But I'm definitely into it when I'm playing, that's for sure.