Campus fraternity teaches minorities about real world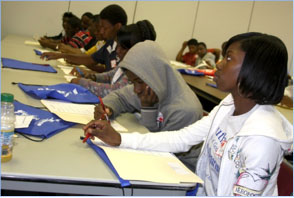 The Omega Psi Phi fraternity recently organized its second workshop April 10 to educate minority youths on issues they will have to face in the real world.
This semester's workshop attracted more than 200 middle and high school aged students from around Duval County who got the opportunity to learn about some of the necessary challenges of the adult world, said fraternity president and senior political science major Tyree Jackson.
The main message the fraternity tried to pass on to the youth was that education is key to success. Many students might not even be exposed to such things before they actually go out there and try to find jobs or get accepted to colleges, Jackson said.
The workshop consisted of a variety of activities including a job fair simulation, sexual and health education, religion and etiquette classes.
"We try to create as much realistic atmosphere as we can because by the time they learn certain things it might be too late," Jackson said.
Different organizations and agencies were invited to attend the event including the Normandy Community Center, which runs an after school program for low-income minority youth.
Various sponsors including Bank of America helped the fraternity sponsor the event and accommodate the crowd. Omega Psi Phi was also able to serve lunch and drinks to the youngsters with the financial backing, Jackson said.
Brandi Hill, program director for Community Connections, attended the event with 15 of her students who were very excited about the prospects of getting summer jobs, she said.
"They even taught the students how to tie a tie – something none of my students knew how to do prior to the conference," Hill said.
Laquita Williams, a 16-year-old 10th grader from Baldwin High who attended the workshop, plans on going to medical school and was able to gather a lot of information, which she believed will benefit her in the future, she said.
"They teach you how to carry yourself and how to further impress your employers," Williams said.
Ronnie King organized Day in the Real World for Omega Psi Phi and said his fraternity brothers were like big brothers to the children.
They educate the youth specifically on issues such as the cost of having children, cost of living, utilities and finance management, King said.
Most of the promotion was also done by word of mouth and targeted minority youth who meet the men of Omega Psi Phi at regular volunteering sessions, King said.
Some of the mentees develop a personal relationship with the kids based on their age proximity and situations, Jackson said.
"[Mentees] may see their mentors are something realistic because we were where they are now just a couple years ago," he said.
Hill believes the event was an invaluable experience for her students, who might have never visited college campus before.
"The exposure is vital in getting lower-income students to believe it is possible to attend college,"
she said.
E-mail Andrea Farah at [email protected]