UNF Volleyball's Paige Pridgeon joins elite 1,000, 1,000 dig club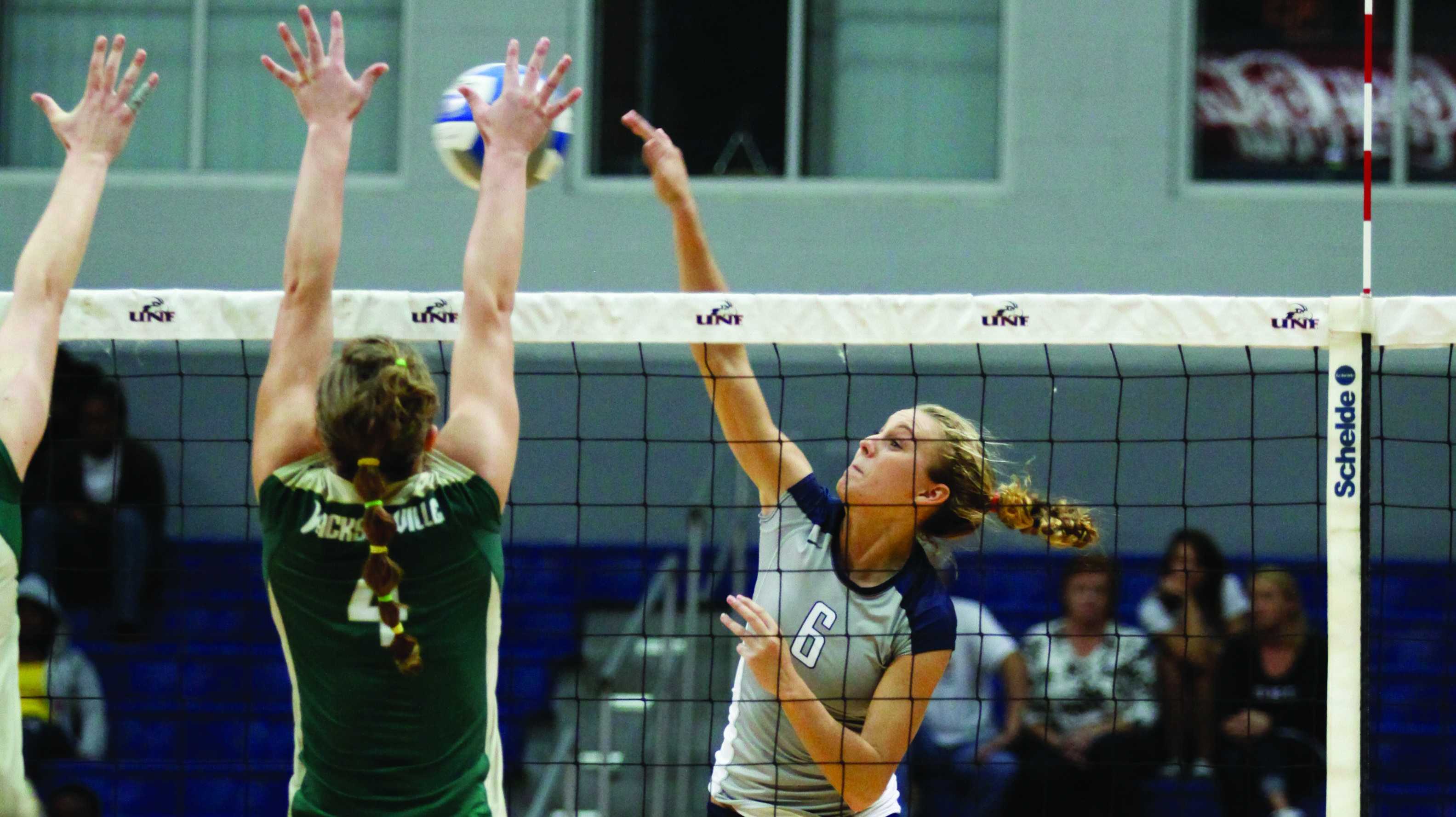 When most people use the expression, "I've done it 1,000 times," it's just a figure of speech. But not if those words are coming from senior UNF volleyball player Paige Pridgeon.
In a Sept. 11 in a match against Bethune-Cookman, Pridgeon reached 1,000 digs to go along with 1,322 kills for her college career. She is the only active player in the Atlantic-Sun Conference to have at least 1,000 digs and 1,000 kills.
"[My teammates] told me before the game, 'All you need is four digs,' but I didn't feel any pressure," said Pridgeon, who finished the match with seven digs.
The two-time All-Atlantic Sun Conference second team member joined former Osprey Becky Dijon as the only other player in UNF's history to reach the exclusive 1000 kill – 1000 dig club.
"[Paige is] a very athletic and talented volleyball player. She's an incredibly hard worker who doesn't take any plays off during practice and in games and a lot of the players look up to her for that," said head coach Steve Loeswick.
Pridgeon, a Tallahassee native, started 27 matches her freshman year and was named 2009 Atlantic-Sun Freshman of the Year after amassing 205 digs and 350 kills for the season.
"It's great to have coaches and teammates pushing you every day in practice to help you reach these individual milestones," said Pridgeon.
Aside from achieving her impressive individual feats, Pridgeon has been one of the team's quintessential leaders.
"Both Nicole (Baran) and I had to work hard to become leaders. Overcoming the challenge of really learning how to teach and motivate was tough for me," said Pridgeon.
During the 2012 season, Pridgeon has continued to display an ability to be a complete player. After 54 sets played, she leads the team with 175 kills and is second on the team with 165 digs bringing her career total to 1066 digs.
Pridgeon prides herself on being a great defensive player: In a proposed hypothetical situation of getting a game saving dig, or game winning kill, Pridgeon said, "Probably the dig. After the dig we have people in the front row that are going to get the kill, and obviously we are going to win after that."
"She comes in with a very competitive attitude. She's been open-minded with the staff and has done a great job learning under the new staff. She is always willing to learn," said Loeswick.
After the conclusion of the indoor season, Pridgeon will remain at UNF and play another season of sand volleyball in an attempt to repeat last year's conference winning run.
Following graduation Pridgeon, a communications major, hopes to continue to play volleyball at the professional level.
"It has always been a goal of mine to play [volleyball] overseas," said Pridgeon.
For now, Pridgeon's focus is on her team as the Ospreys, who have won seven of their last nine matches, begin to get to the meat of their conference schedule.
"Our motto this year is 'One more'. We have really learned our rhythm and flow of the game. Our goal, obviously is to win conference, and I think it's great that we are all on the same page," said Pridgeon