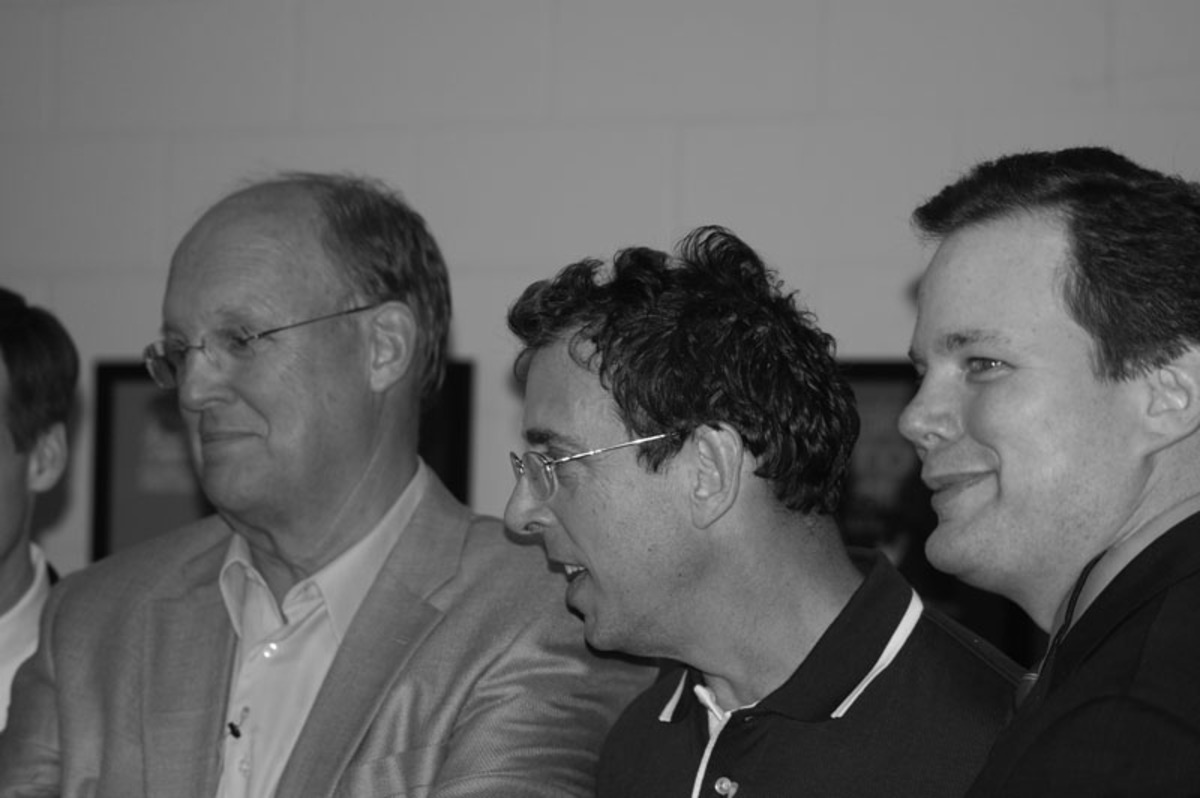 Bailouts, taxes, national defense and private enterprise were just a few of the topics discussed by two nationally syndicated talk show personalities who UNF and WOKV hosted for an event titled "The First 100 Days of Obama."
Neal Boortz, Clark Howard and Jamie Dupree greeted a sold-out crowd April 10 in the Lazzara Theater with a line from the 2008 presidential campaign, "Welcome to the Democratic National Convention."
As they began a two-hour critique on the first 100 days of the Obama administration, the crowd greeted them with thunderous applause.
Boortz, a prominent Libertarian radio talk show host based out of Atlanta, discussed the initial actions of the Obama administration with Howard, who offers practical financial advice for people who want to live fiscally conservative day-to-day. Dupree, a Washington-based journalist for the Cox Radio Inc. network, moderated the forum and offered an objective point of view between Boortz' and Howard's commentary.
The majority of the forum was dominated by Howard and Boortz, who mostly agreed about the economic crisis and the current administration's response.
Boortz was hoping for something better, he said shortly after engaging Howard on the stimulus bill.
"The bailout package will create short term-progress, but people need to collectively reduce the amount of debt they took on," Howard said. "[Even after the bailouts], Bank of America is completely insolvent. They have already received $163 billion of your dollars to back them up. There was a report that stated they would not be able to keep their doors open unless they get another $36 billion."
Citigroup is essentially insolvent also, Howard said.
He said banks used to carry a debt load of 6 percent, but recently they have over-leveraged themselves by more than 100 percent. The problem is that they keep making bigger and bigger bets, Howard said.
"Are they too big to fail and too big to succeed?" Boortz asked.
On government spending, both agreed Obama was following a traditional habit of new presidents who display an initial burst of power before executive limitations come in to play. Boortz said even if McCain had been elected, financial problems were so deep that government interference would have been detrimental either way.
The national deficit recently surpassed $11 trillion, and the Democratic-led Congressional Budget Office released a report March 20 that said the Obama administration's proposed budget will produce a $900 billion deficit annually for the next 10 years.
"You could cut out every department of the government except Social Security and Medicare and still run on a deficit," Howard said.
But Boortz doesn't agree Obama's methods of stimulating the economy will be effective in relieving the economic crisis.
"The way to reduce the deficit is to improve the economy, and it doesn't rely on government employment," Boortz said. "[And] Obama will try to build the economy through government employment."
Dupree said neither party was interested in reigning-in spending.
Howard, a self-professed cheapskate and government minimalist, said America's lifestyle spending and gotta-have-it nature got in the way of people who truly wanted to be wealthy.
"We can talk about tax policy all day long, but as a country we must get back to the basics where the government can only do what government is supposed to do – national defense, central currency and the most basic of functions, as it used to be," Howard said. "Economic growth has to be in private hands so there is incentive for risking government to make things better."
E-mail Jonathan Morales and James Cannon II at [email protected].