UNF dedicates University Center to former university president Adam Herbert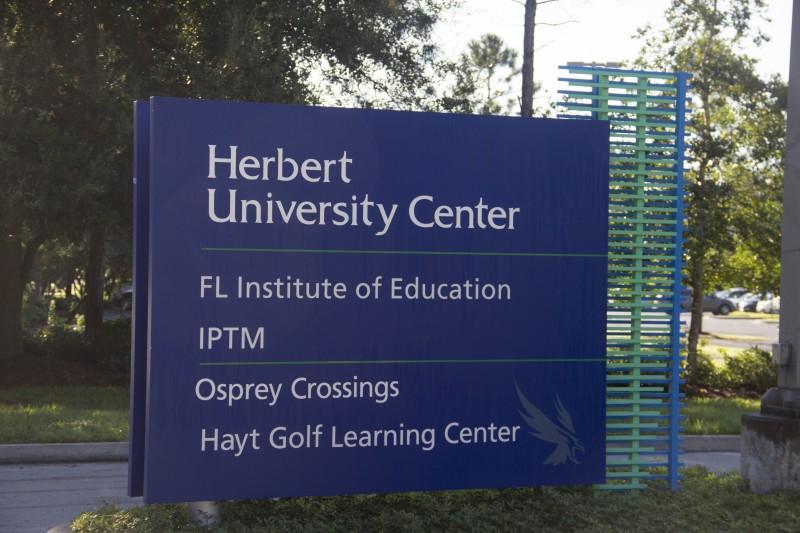 UNF celebrated its Founder's Day today with the dedication of the University Center to the university's third president, Adam Herbert.
Pierre Allaire, UNF's vice president of Institutional Advancement, said the Board of Trustees convened in January to discuss the naming of the University Center and to whom it would be dedicated. The board passed the decision unanimously in favor of Herbert, he said.
Inaugurated Sept. 29, 1989, Herbert served as president until 1998.
During his speech today, Herbert told attendees he arrived at UNF with the goal of distinguishing the university through community outreach, the advancement of programs and the creation of opportunities for the university to grow into a substantial institution.
Herbert said he saw the University Center as a multi-purpose conference center and educational building with the ability to facilitate a bridge between UNF and the greater Jacksonville community by bringing in local residents and businesses to convene for lectures, classes and various social events.
Rad Lovett, a member of the Board of Trustees, said since its opening, the facility has hosted more than 54,000 events, attracted 2.2 million visitors and generated $20 million in revenue for UNF.
Herbert went on to name several members of the audience who were influential in the building's construction, including Jack Diamond, the architect of the University Center and other campus structures, such as the Fine Arts Center.
Herbert concluded his speech by noting how highly filled his expectations are with the success of the center.
A dedication plaque will be visible in the lobby of the Herbert University Center, as well as a commemorative plaque on the outside deck behind the center.
Email Jason Howard at [email protected]