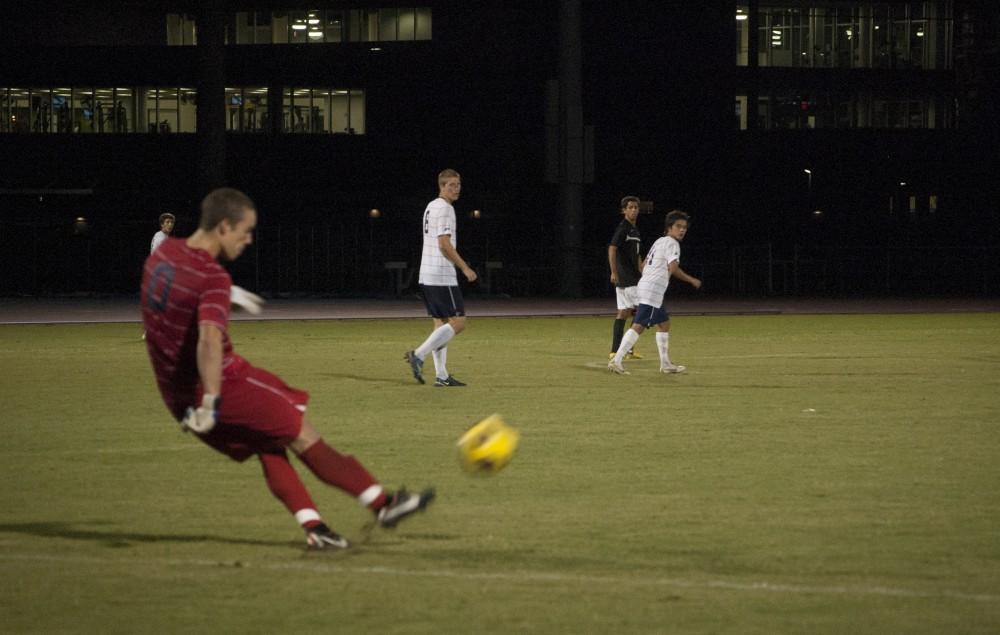 The UNF men's soccer team has two goalies sharing the spotlight this season.  Senior starter Brad Sienkiewicz went down in the Florida Atlantic game with a pulled quadricep Sept 2. But the Ospreys didn't panic. Derek Marinatos is lucky to have two goalies he trusts to perform, a luxury that has greatly benefited the team
Rather than scrambling to find a backup, the Ospreys head soccer coach Derek Marinatos plugged in talented freshman Kyle Nasta, a Jacksonville native and graduate of Episcopal High School.
UNF coaches depend on the goal keeper to uphold on- field verbal communication, run sets starting with the back four, and keep the guys in line when the team faces animosity. Both Nasta and Sienkiewicz have displayed the qualities expected from the position.
"It's great," said UNF head soccer coach Derek Marinato. "[Nasta] has come a long way. He's done a great job of filling in for [Sienkiewicz] when he's been injured."
Sienkiewicz has performed well in the five games he's started this season, totaling 25 total saves and two wins. But his back up, Nasta, recorded 9 more saves (34) and the same number of wins as Sienkiewicz in only four matches.
"I wasn't expecting much playing time since I'm a freshman," said Sienkiewicz. "I was just looking to learn from Brad [Sienkiewicz]."
The soft-spoken Nasta went far beyond what he expected. The freshman has averaged nearly 73 minutes per match. Nasta was named to the All-Tournament team at the UCR/Courtyard by Marriott Soccer Invitational for his efforts against no. 25 UC Riverside and San Diego State. By the end of the tournament, played in Riverside, Calif, Nasta recorded 8 saves against UCR, and 11 against SDSU.
"It was definitely an honor, I was glad I made it," said Nasta. "But I wish we would have come out of there with a couple more wins."
While Nasta tallied 19 saves in the tournament, Sienkiewicz continued his rehabilitations.
"I'm just trying to do my best to get healthy," said Sienkiewicz. "You got really have to be patient so that you don't have 3 or 4 setbacks."
Sienkiewicz' was limited in practice, but he did see limited action against UC Riverside on Sept. 14, playing for about 20 minutes.
"I've trained at nearly 100 percent this week," said Sienkiewicz. "I've seen the progress."
Despite Sienkiewicz limitations in practice and games, and in addition to Nasta's success as backup, Marinatos doesn't see a controversy between the two goalies as to who is going to start once Sienkiewicz is healthy.
"When Brad is healthy and 100 percent, he'll be in back in the net," said Marinatos. "Brad is clearly the guy; he's a much better communicator in terms of managing the game."
Sienkiewicz's timetable for return remains unknown.