The UNF men's soccer team won its second consecutive game Sept. 20 against Flagler College 2-1 at Hodges Stadium. This marks the Ospreys' third win of the season.
The game opened with play from both sides. In the 22nd minute, Flagl
er's Conor Killeen dribbled past three players and kicked the ball into the goal.
The Ospreys spent the next 50 minutes trying to even the score.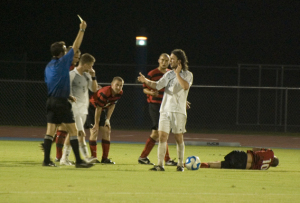 In the 73rd minute, UNF sophomore midfielder and defender Sebastian Bianchi dribbled the ball into the penalty box and chipped the ball over the goalkeeper's outreached hands into the back of the net.
"I felt like we were the stronger side after we scored," UNF head coach Ray Bunch said. "But they made some good runs toward the end of regulation and put a couple of balls across the face of the net."
Throughout the contest, official Danté Buckley was forced to keep the game under control. Between the two teams there were 37 fouls and six of them resulted in yellow cards. The Ospreys contributed to 15 of the game's fouls and three of the yellow cards. The Saints accumulated 22 fouls and three yellow cards.
Flagler's final foul ended the game in the seventh minute of overtime when UNF sophomore forward Akil DeFreitas was tackled inside the penalty box. This led to sophomore forward Adam O'Neill netting the game-winning penalty kick.
"Our team showed a lot of character to battle back the way we did," Bunch said. "Flagler is an extremely good team."
The UNF men's soccer team will travel to Johnson City, Tenn. Oct. 3 to play East Tennessee State University.
E-mail Vincent Pesce at [email protected].