Movie Review: 'Pitch Perfect' hits all the right notes
Welcoming the fall season with open arms is the auto-tuned, hilarious love letter to collegiate a capella, Pitch Perfect.
In essence, imagine Glee without the hallway drama, with an added a splash of gut-busting pro-girl comedy, all poured over the sugary rim of Top 40 mash-ups.
Doing what Bring It On did for cheer-leading, Pitch Perfect is a wild, fun and funny ride through the colorful world of a capella competition.
Set in the fictitious Barden University, this movie tells the story of a rebellious, aspiring music producer, Beca, played acerbically by Anna Kendrick, who's pressured into joining the once-elite a capella group the Bellas.
Captaining the Bellas are Anna Camp as the uptight Aubrey and Brittany Snow as the sweet, ginger-haired Chloe. However, the fresh crop of performers auditioning are hardly the clean-cut, wannabe Rockettes that the Bellas are known for. One of them is Bridesmaids favorite Rebel Wilson, who owns the screen with charm and ready wit as "Fat Amy."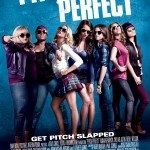 The Bellas vocal rivals, the Treblemakers, are a fun, frenzied cross between Broadway stars and Backstreet Boys. Among them are actual Broadway stars like baby-faced Skylar Astin, who charms us all as Jesse, the cinephile with a golden voice.
Where there's music, dance and hormones, there's bound to be a show. That's what Pitch Perfect promises and what it delivers splendidly.
Throughout the course of this mostly music bundle of fun, Pitch Perfect plays with ideas of drama and occasional moments of snappy writing. These moments are fleeting, as it's soon off to another scene stuffed with flashy choreography and musical mash-ups.
In fact, Pitch Perfect succeeds because it doesn't take itself too seriously. There are a few sticky, slow moments, but, as in the summer's heavily musical Rock of Ages, these moments are very few and they are used as springboards for another pop of sass and color.
The film's dramatic turns may be superficial and its ending anti-climactic, but that doesn't stop this film from being a delightful and colorful musical break from heavy stories and austere Oscar-grabbers.
Pitch Perfect is the film to go for when you want flair, sass and outrageously fun music mash-ups. Give it a go for a pick-me-up; it will lift your spirits in no time! 3 out of 5 stars