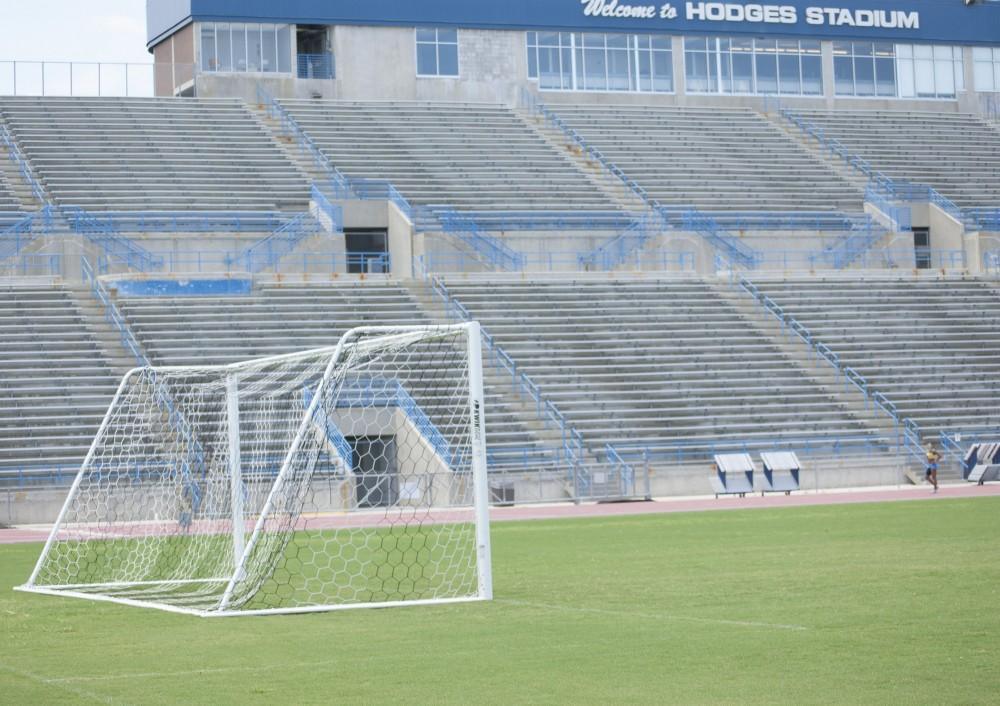 What's it take to get the ball in the net?
The UNF men's soccer team has now lost nine games in a row, the ninth coming at the feet of the top ranked Mercer Bears, 3-0. The loss on Oct.18 exceeds the number of years in a two-term presidency, and continues the deterioration of a season that started out promising, with the Ospreys winning three of its first five matches.
If you were to hear head coach Derek Marinatos tell it, UNF (3-11, 0-5-0 A-Sun) isn't too far off from being on the winning side of nine matches in a row, the exception being two matches in California against UC-Riverside and San Diego State in which the Ospreys gave up a combined 14 goals and scored zero.
One residual problem remains constant during the streak, which includes five losses in five conference games, and that issue is that shots just aren't falling. The Thursday night match provided no exception, as A-Sun leaders Mercer (9-4-1, 4-0-0 A-Sun) blanked UNF.
"We created some half-chances," said Marinatos. "But we couldn't put the ball in the back of the net."
Thursday match was the eighth match out of 14 played that the Ospreys failed to score a goal.
"We can't seem to find goals," said Marinatos. "When you go down, if you can't score a goal to get back in it you're not going to win the game."
Marinatos said that Ospreys lineup was "a bit thin" because Midfielder/Forward Teddy Mulamba, who scored his third goal of the season against Northern Kentucky, didn't dress out  because of a red card in Sunday's game against Florida Gulf Coast. Additionally, sophomore midfielder Chris Yurkiewicz missed the entire week of practice then battled an illness through 80 minutes. .
"I'm proud of [UNF's] effort," said Marinatos. "But we're not doing enough to win games."
Freshman forward Max McDaniel took three shots, two of which were on goal. The chances that McDaniel created coming off the bench were to no avail, however.
"We had good chances, just couldn't find the back of the net, said McDaniel. "We've got to put some goals together."
The Ospreys get the weekend off, its first three day break of the season. UNF men's soccer returns to action at Stetson Fri, Oct. 26 at 7 p.m.