UNF men's basketball modifies offense, returns five starters
As the clock wound down in the first-round game of the Atlantic-Sun Tournament March 1, Parker Smith attempted a 3-pointer for the win. The shot, however, came up short. UNF lost by two points to East Tennessee State, 68-66, ending their hopes of a conference championship.
Despite a sour ending to the 2011-12 season, the UNF men's basketball team won 10 A-Sun games and 16 games overall, breaking the school records in both.
The team finished fourth in the A-Sun Conference, and the 2012-13 preseason polls project this season's team to finish fourth again.
With the team's recent success, head coach Matthew Driscoll maintains the expectation of winning the A-Sun Championship this year.
"We're not here to come close, we're not here to come second, and we're not here to say 'good job', [or] 'atta boy,'" Driscoll said.
Driscoll will start the same five players who started last season's team. Now seniors, the five players include shooting guard Parker Smith, point guard Will Wilson, guard/forward Jerron Granberry, forward Andy Diaz, and forward David Jeune.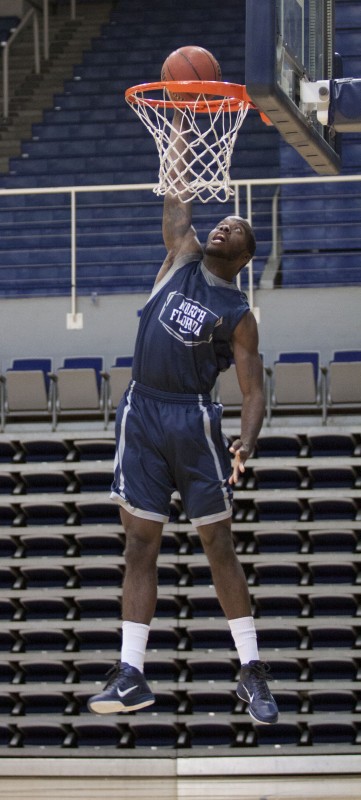 "We're going to win the conference championship," said Granberry, the team's second leading scorer, averaging 10.9 points per game. "This is the most talented team we've had."
"We feel like we got disrespected," Granberry said, in reference to the A-Sun preseason polls. "We feel in our hearts that we're number one, and for anybody to say anything else is just a slap in the face."
This season marks the first year that Driscoll will manage a team in which he has recruited every player. Because of Driscoll's familiarity with the players, he has tailored a new formation that incorporates the team's strengths and weaknesses.
Driscoll calls the formation "four around one." The strategy involves an up-tempo style of basketball; the players push the ball up the court and look to score quickly on fast breaks. When crafting the new system, Driscoll accounted for four guards that can handle the ball and run an offense, which centers around one big man.
Before coming to UNF Driscoll was the assistant coach at Baylor, under head coach Scott Drew. Coaching alongside Drew cemented Driscoll's belief in the four-guard system. Driscoll said he's switching the emphasis this year, but the plays, the players and the system will be the same.
"With our recruits that have come in, we're now able to pick and pop more, and stretch the floor," Driscoll said. "Coach Drew's influence on me definitely opened my eyes more."
In half-court sets, the team will look to run the pick and pop offense where shooters, in lieu of big men, set the screens. The screener peels off for a long range shot after setting a screen for the ball handler. Defenses tend to collapse on the ball handler as he drives to the basket after the screen, leaving the screener open for the jump shot.
Teams that run the pick and pop offense include Gonzaga, Butler, Baylor and Belmont (formerly of the A-Sun, now of the Ohio Valley Conference).
"These are schools that we try to emulate," Driscoll said. "Those teams are always the best scoring teams in the league, and the best defensive teams. That's where our philosophy is beginning to expound to."
"We've developed our players to be able to do different things on the floor," Driscoll said. "We're really excited about the fact that we've got options. You've got players making plays instead of players running plays."
The tallest players on UNF's team are freshman guard Beau Beech and senior forward Andy Diaz, who both stand at 6-foot-8. Mercer, which is predicted to place first in the A-Sun Conference, has a 6-foot-11 center in Monty Brown, a 6-foot-10 forward in Daniel Coursey, and a 6-foot-9 forward in T.J. Hallicel.
UNF is going to need all of the height they can get, especially when facing Mercer whose fourth-tallest player is the same height as UNF's tallest player.
Coach Driscoll said there are four main factors he's looking for in his players in the 2012-13 season. He expects his players to win the assists to turnover battle, to get more offensive rebounds, have a higher field goal percentage, and to get to the free throw line more often.
"If you can win those battles," Driscoll said, "you can win every game you play."
As a team, UNF didn't finish above fifth place in any statistical category last season.
"It was a weird year for the league last year offensively," Driscoll said. "A lot of teams could put the ball in the hole."
Smith, who averaged 14.5 points per game last season, and led UNF in scoring, was only fifth in the conference. Smith was listed on bleacherreport.com's "College Basketball 2012-13: The Top 15 Long-Range Bombers in the Country" list after ranking 10th in the NCAA with an average of three 3-point field goals per game. Smith shot 41 percent from beyond the arc last season, which ranked him 26th in the entire country.
Smith backed up his nickname, PS3, when he had one of the greatest performances in UNF history, scoring 46 points and hitting 11 three-pointers in a victory over Mercer.
Smith is not only a top 3-point shooter, he also led the team in free throws last season, making 83.8 percent of shots taken. With those numbers, PS3 could make waves as a top shooting guard, not only in the conference, but in the nation.
UNF's less than spectacular numbers from the free throw line (10th in the A-Sun), cost them wins last season. UNF shot only for only 61 percent in free throws, something that must be improved upon this season.
Senior forward Diaz was amongst the top five shooters for UNF, but was last on the team in free throws at 38 percent. Diaz' inability at the line was magnified due to the fact he was the most fouled player on the team.
"We just have to step up and make our free throws," Smith said. "Free throws help win games, you've got to make them."
Outside of the conference, UNF has two road games against top tier programs, no.16 Memphis, and Kansas State. Driscoll schedules tough road tests, at the onset of each season, to push his team to its limits.
With such high hopes and expectations for the 2012-13 UNF men's basketball team, everything has to come together. They are an experienced team stacked with seniors, recruited by coach Driscoll, with a new and improved offense. UNF will look to turn expectations into success this season, and win that elusive A-Sun title.
UNF's men's basketball's first game of the year is against Flagler at home, Nov. 1.