Cell phone repair business opens in Alumni Square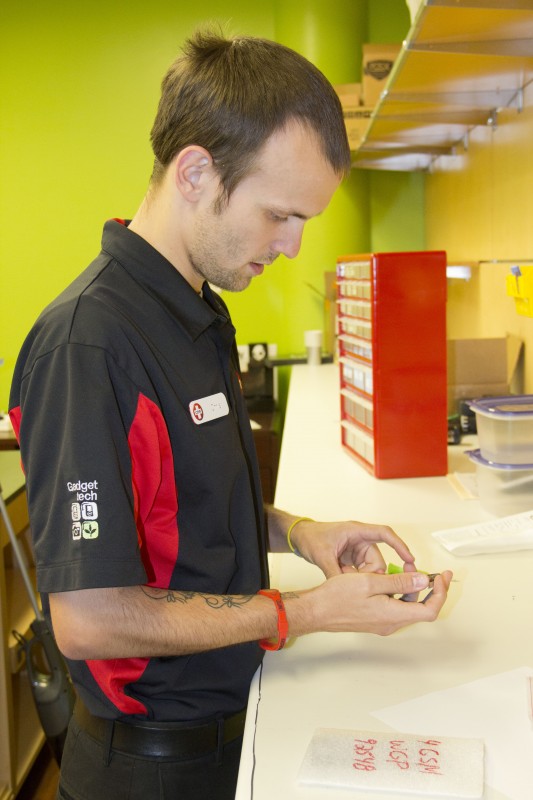 A new store opened Nov. 5 in the old Chartwells location between Sbarro and the UPS Store.
Run by Carla Aldridge and her husband Ruben, CPR Cell Phone Repair opened its second Jacksonville location. CPR Phone Repair sells refurbished phones, buys phones and fixes phones, laptops, tablets, game systems and sound systems.
The couple took advantage of UNF Market Day to spread the word of their new on-campus location and their original location at Beach and Hodges behind the Chick-Fil-A.
Having sent several children through UNF, and with several more to come, Carla Aldridge said she is excited to get even more involved on campus and connect with students and faculty.
"You build your business one customer at a time," Aldridge said.
CPR Phone Repair will accept Ozzie Bucks as a form of payment, which is also accepted at the original location.
Aldridge said she doesn't want the students to worry about the level of trust between them and the store.
"We're not out to make a killing," Aldridge said. "We have an honest basis and fair and reasonable prices."
Tully Burnett, the associate director of UNF Auxiliary Services, said his department considered several businesses before choosing CPR Phone Repair, including a spa/salon, a Hair Cuttery and a basic computer repair store.
However, many of the businesses that could have filled the space were voided, due to the contracts the school holds with Chartwells and the UNF Bookstore.
Burnett said Auxiliary Services tried to find a business that could serve everyone on campus.
"One thing that everyone has one or more of is some kind of electronic device," Burnett said.
Burnett said there is no cost to the school to house CPR Phone Repair. UNF is leasing the space to the business, so UNF is actually making a small profit.
Under the current contract, the business has a five-year agreement with UNF and a provision for a five-year renewal. CPR Phone Repair has met with Information Technology Services to form a better understanding of what each is responsible for. ITS, however, declined being interviewed.
With the store now open, Aldridge said she is enthusiastic to spread the word of its services to faculty, students and their parents.
Students' reactions varied, usually due to the convenience it would offer them and what they what they had heard about similar businesses.
Faris Batshone, a UNF economics junior, said he wouldn't get a refurbished phone because he has friends who have, and the phones have ended up not working correctly.
Batshone said it's also not convenient because he doesn't live close to school.
However, Jasmine Arnott, a UNF English freshman, said an on-campus repair store in emergent situations is convenient.
"I hate driving, so anytime I don't have to it's really great," she said.
CPR Phone Repair is open Mondays through Thursdays 9:30 a.m.-6 p.m. and Fridays 9:30 a.m.-3 p.m.
Email Taylor Nelson at [email protected].