Float through the Fountains in five-story oasis, leave only for class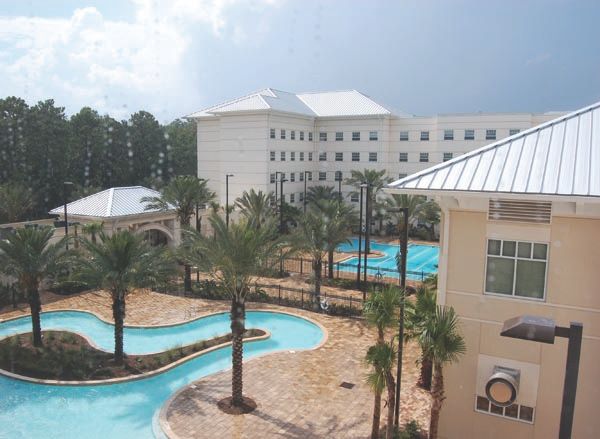 The newest and most expensive building on campus, the Osprey Fountains, will be opening this fall, adding 1,000 beds to university housing.
The Fountains can be accessed by vehicle via Kernan Boulevard on the newly built Osprey Ridge Road.
The $86 million building has become known around campus for its many amenities, including a 24-hour fitness and aerobics center as well as a 24-hour game room with pingpong, pool, foosball and shuffleboard tables.
The Fitness Center will have treadmills, bikes and weightlifting machines and will offer fitness classes, said Jim Baur, assistant director of recreation.
"The classes being offered are designed to use very little equipment," he said. "We are going to see how popular they are [before involving equipment]."
The Housing Office is currently putting a schedule together for free fitness classes this fall, intended not only for the fitness center but also for the aerobics center, which is located next door, Baur said.
Across the hall from the Fitness Center is Ozzie's convenience store which sells food, cereals, toiletries and more from 7 to 3 a.m.  It will also have a pick-up window accessible from the pool courtyard.
The pool courtyard includes two swimming pools open from dawn to dusk. One is a lazy river, which winds around a palm tree oasis and provides students with inner tubes to relax on. The other pool offers swimming lanes, basketball hoops and a volleyball net.  Speakers for music surround both areas.
More recreational activities available for students include a synthetic chipping and putting green, two tennis courts, a basketball court, a sand volleyball court and a running track. Equipment for these areas will not be provided. Next to the bicycle racks stands a small post with an air pump. There is also a sprinkler to wash off surfboards.
"It's awesome because I'm at UNF on a track scholarship. My room is right there by it so I wouldn't have to go all the way across campus to practice," said freshman building construction major James Post.
The Fountains residences are divided into a north and a south tower.  Each tower has five floors and each floor a tower consists of two houses. A house is a T-Shaped hallway with 50 residents and one resident assistant. Each house has its own kitchen and study lounge, but the entire floor shares a laundry room and a garbage room.
Riel said the garbage is carried off site to be separated into recyclable and non-recyclable items.
Every residence hall on campus has lounges, but the Fountains took the term further than ever before, given each one a unique theme.
"The B.L.O.C." or the Beanbag Lounge on Campus offers students over 20 different beanbags to relax on as they talk, study or enjoy wireless Internet available throughout the facility.
"The Galaxy" lounge is the gaming lounge where students can enjoy Xboxes, Nintendo Wiis and Playstations.
Riel said this was the darkest room in the building because of the black ceiling and shades, creating a better resolution on the televisions.
"The Upper Deck" is a sports-themed lounge with a green carpeted floor lined like a football field. Students will be able to watch games on large projector screens. This lounge will also be subscribing to a TV sports package.
"The Spotlight" lounge is Hollywood-themed and can act as a good host for movie night or karaoke with large projectors on both sides of the room.
"Bob's Diner" is a restaurant and a lounge. It will feature a jukebox and furniture much like what could be seen in an old diner.
"The Morgue" lounge is a computer lab and a quiet area for studying and is located on the floor most honors students will be living.
"Our goal in designing the building was that as the residents got further away from the center of it, the quieter it would get," Riel said.
There are also large multi-purpose rooms that can be reserved by residents at no charge.
The residence hall is also in the process of becoming certified in Leadership in Energy and Environmental Design.
Steve Halverson, CEO of Haskell Company who designed and constructed the building, said he hoped it would qualify for the silver level of LEED certification.
Particularly for the Fountains, part of being LEED-certified was preventing light from shining into the nearby wetlands. So the lights on the 800 ft. wooden walkway which connects the Fountains to campus are environmentally designed to light up only the walkway and nothing else.
Though the Fountains was originally designed for upperclassmen, due to demand from freshman interest, Riel said he opened the Fountains up to freshman for a two-week registration period. About 100 students took advantage.
But freshman won't be allowed to stay in their room over the winter break and because of the lack of people old enough to drink, the Fountains are a designated dry residence hall, Riel said.
This as well as the price of the Fountains ($2,900 a semester for most private rooms) might lead students elsewhere for housing, Student Body President John Barnes said.
"[Price] will be an ongoing battle as we move forward," Barnes said. "They need to be competitive with nearby off-campus housing."
But housing prices didn't deter senior political science major, Michael Burgess from signing up.
"It was really no big deal considering what I paid for at the Village," Burgess said.
"I factored in the price, but I am senior and would like to really enjoy my last year at UNF."