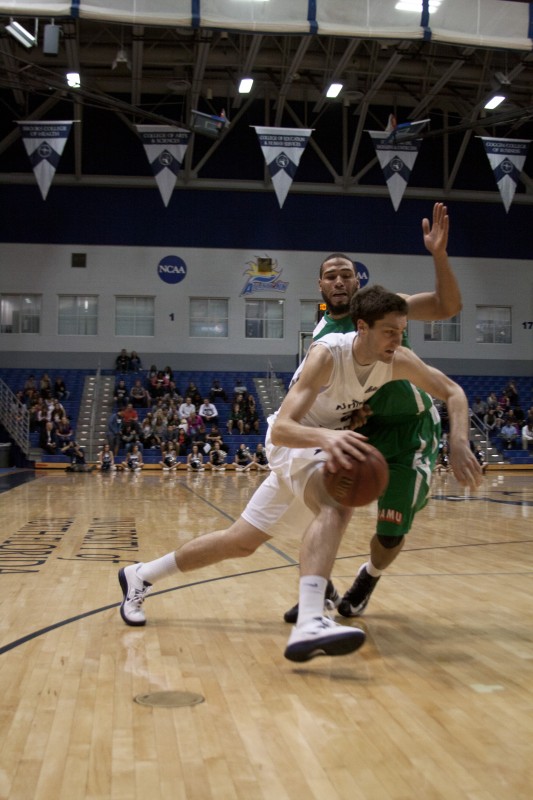 The UNF men's basketball team defeated its second in-state rival in a row Thursday. The victory came against the FAMU Rattlers 72-47 before a crowd of 1,580 at UNF arena. The Ospreys are now 2-0 at home, with both wins coming against teams with a combined record of 2-12.
Senior Parker Smith led the Ospreys (3-4) with 18 points on 5 for 15 shooting, 4 of 12 from three point range, and 4-4 from the free throw line. Smith was one of four North Florida players who scored double digits. Junior guard/forward Charles McRoy finished with 14 points shooting 3-4 from the field and 8 for 10 from the free throw stripe.
"Every game I go in with the same confidence," McRoy said. "This is what I'm supposed to be doing."
Freshman forward Demarcus "BaeBae'' Daniels and junior guard Travis Wallace finished with 12 points each.
"I thought we really came out with a purpose and vigor," UNF head coach Matthew Driscoll said. "The one thing that we talked about was having energy and effort and making sure that we were the aggressor."
For the second consecutive game, the Ospreys out-rebounded its opponent. UNF corralled 38 boards to the Rattler's 29. FAMU shot 32.6 percent from the field (15-46), while the Ospreys tallied a shooting rate of 45.4 percent.
"Our length is ridiculous," Driscoll said. "If we just handle our business and take care of getting our body in front of his body, we can get whatever we want."
Beyond the arch, North Florida shot 5 for 17 (29.4 percent), tallying a 70.8 percent (17-24) from the free throw line.
"It's a confidence builder," junior guard Travis Wallace said, who notched 4 rebounds in addition to his 12 points.  "It allows us to understand what we have to do. It doesn't matter what team you're playing, you've got to finish."
UNF senior forward Andy Diaz missed his fourth consecutive game with a knee injury. Diaz averaged 7 points and 3.7 rebounds per contest in three games leading up to the injury. Driscoll said Diaz is day to day and his timetable for return is unknown.
Senior shooting guard/ forward Jerron Granberry missed his second consecutive game. Granberry, who averaged 9.2 points and 3.4 rebounds per game, has taken a leave of absence from the team. Driscoll said the senior's return is questionable and isn't expected to return in the near future.
UNF's next two contests come on the road at Minnesota and Pittsburgh. The Ospreys have posted a 1-4 record away from home which includes games against number 16 Memphis, Kansas State, and Florida State.
"I think it prepares us for the league in that we get to play in different environments," Driscoll said. "The other thing it does is it brings money into our athletic department."
Driscoll said he would much rather play a lot of home games, but that the players also love playing on the road against marquee teams.
"That's why I think we're such a good road team in the league," said Driscoll. "I don't think any of [UNF's players] are shocked by anything."
The Ospreys will attempt to shock the basketball world when they play #21 Minnesota University Sat. Dec. 1 at 2 pm in St. Paul, Minn.