Men's basketball grabs win in A-sun opener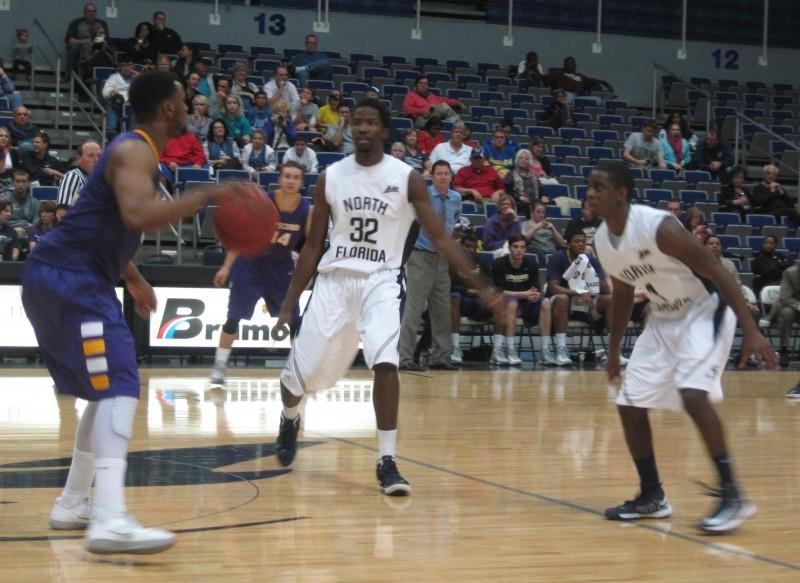 In the first game of the season within the season, UNF used a second half surge to capture a 84-70 win against A-sun foe Lipscomb on New Year's Eve. UNF had five players score in double digits and had their highest offensive output of the season.
Junior Travis Wallace led the way with 24 pts, 8 rebs and 3 ast, scoring 16 in the first half and 14 in a row during one stretch. Wallace, who leads the A-sun in field goal percentage, is riding a hot streak and is averaging 23 points and 8 rebounds over his last four games.
"I give the credit to Will Wilson, and the point guards especially. They are finding us in spots that you wouldn't think they would be able to find us in," Wallace said.
Wallace says they haven't started running new plays, or plays for him specifically, but his recent success is a result of the team gelling together and understanding what coach Matthew Driscoll expects.
"When you have 20 assist and 31 made [team] field goals, something's right," said Driscoll.
Lipscomb (5-7, 0-1) played the Ospreys tight for much of the first half, due in part to the play of the Bison's Malcolm Smith, who ended the game with 20 points and 13 rebounds. Beau Beech hit a big three-point shot from the corner with four seconds left to give UNF (6-8, 1-0) a three point half-time lead, 36-33.
Lipscomb's choice to double-team Parker Smith limited his touches, but gave freshman Beech wide open looks all night. Beech finished with 17 points while shooting 50% from the field. Smith also had a solid all-around game and closed out with 16 pts, 5 rebs, and 4 ast.
Head coach Matthew Driscoll turned up the defensive pressure in the second half, employing on ball double teams and back court pressure. The moves slowed down the Lipscomb offense, and UNF finished the game on a 22-8 run.
The Bison's looked to dump the ball inside early to their big bodies, specifically freshman Stephen Hurt, who's listed as 6-foot-10 and 285 pounds. The Ospreys were able to contain Hurt, getting him in early foul trouble, and limiting him to just two made field goals.
A key factor in the Ospreys balanced scoring was the play of senior point guard Will Wilson. He was able to beat the opposing defense off the dribble and distribute the ball effectively, and finished with 11 assists.
Andy Diaz, who has been coming off the bench since returning from an early season knee sprain had his best game of the season ending with 12 points and 5 rebounds in 16 minutes of play. The rest of the Ospreys second unit had a total of 24 points.
Diaz said he feels 100% healthy and was able to play with high energy.
"I don't think there is anybody in our league that can go coast to coast and make a layup at [Diaz's] size like he can," Driscoll said.
UNF is riding a three game win streak after wins against CSU Bakersfield (80-70) and Georgia Southern (74-46).
The Ospreys will continue conference play when they take on Northern Kentucky at 7:30 on Jan. 2. The game will be broadcast on ESPN3.com.