Men's basketball gets mauled by the Bears
By: Christian Ayers
Jacksonville, Fla – The UNF men's basketball team lost its second straight conference game Thurs., this time to the Mercer Bears, 66-47.
Poor shooting and 7 turnovers in the first half put the Ospreys (7-11, A-sun 2-3) down 32-20 to the Bears at halftime, giving little room for an Osprey comeback.
A lack of defensive execution was Osprey Head Coach Matthew Driscoll's primary gripe of the game.
"It ain't about making shots, it's about getting stops," Coach Driscoll said. "We're talented enough that if we get stops, we can beat any team in the league."
Mercer (10-7, A-sun 3-1) made the most of their 10 offensive rebounds finished the game with 16 second chance points compared to 3 for the Ospreys.
The Osprey's leading scorer, senior guard Parker Smith who scored 46 in the last matchup against Mercer, put up 6 points on 2 of 4 shooting due to a determined Bears defense.
"To be guarded like that and to know I'm going to be guarded like that every game is pretty frustrating," Smith said.
Freshman guard Ray Rodriguez scored a team and career high 11 points, and was the only player to score in double digits. Senior Andy Diaz scored his 1000th career point, chipping in 5 points off the bench.
Mercer was without head coach Bob Hoffman who was serving a 1-game suspension due to two technical fouls in the Bear's previous game. Assistant head coach Bobby Kennen replaced Hoffman and helped conducted a team that out rebounded the Ospreys by 9 and finished with 24 points in the paint. With 29 combined points, junior forward Bud Thomas and senior guard Travis Smith helped Mercer bounce back from an 8 point loss to Kennesaw State Jan. 5.
Junior Travis Wallace scored 8 points, his lowest offensive output since bring inserted into the starting lineup Nov. 18.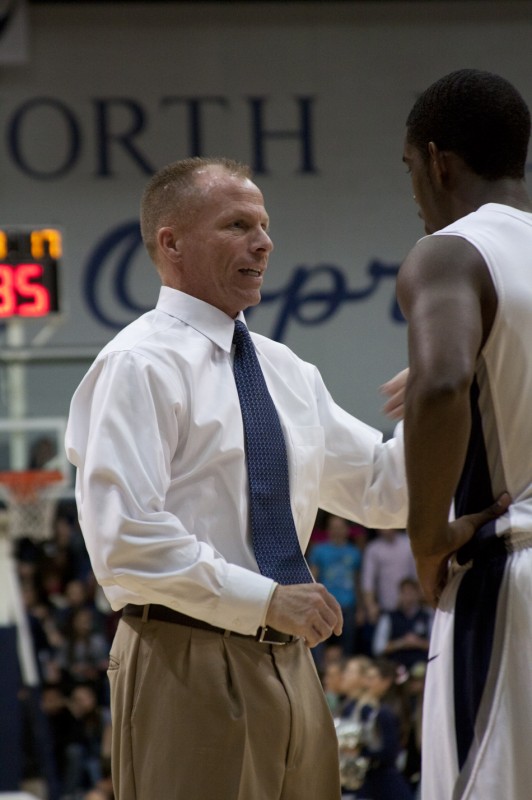 UNF shot 28 percent from the field in the first half (8-29) and finished with a 34 percent mark for the game (17-50) while Mercer hit 51 percent (26-51) of its shots.
"We're going to get open shots, just don't turn the ball over. Guys have got to make shots," Driscoll said.
The Ospreys, who currently sit in 6th place in the Atlantic Sun Conference, will look to rebound from the loss when they face Kennesaw State (2-14, A-sun 1-3) Sat. Jan 12 at 4:30 p.m. The next game will mark the second of a three game home stand.